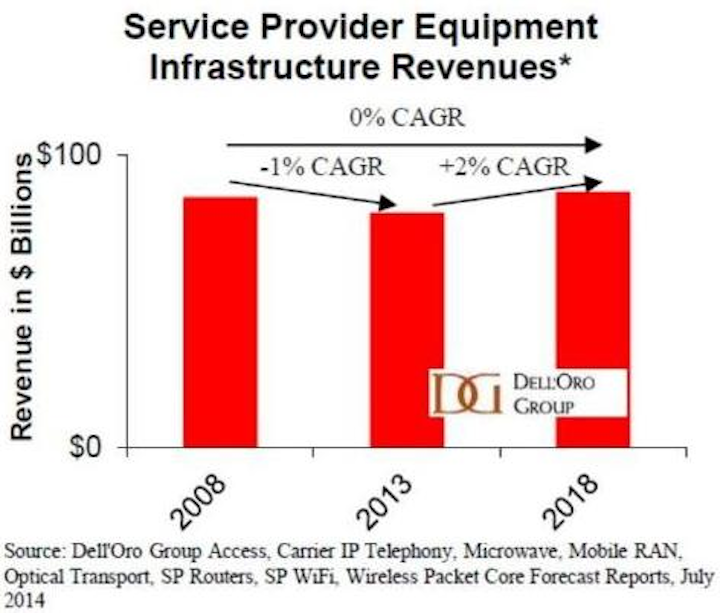 The emphasis carriers globally are placing on wireless services will benefit wireline equipment spending through 2018, according to recently published reports by Dell'Oro Group. The market research firm expects sales of telecom equipment in service provider networks to grow at a CAGR of 2% between 2013 and 2018 – an increase of $30 billion. And 70% of that growth will come in spending on wireline infrastructure, the company forecasts.

"Since the introduction of the iPhone back in 2007 and subsequent proliferation of smartphones generating data as well as voice traffic, service providers have prioritized building out and improving both their wireless and wireline networks," said Tam Dell'Oro, president and founder of Dell'Oro Group. "While we believe carriers will continue to enhance their wireless networks, we anticipate carriers will put more emphasis on backhauling traffic, which means improving their wireline networks in the next five years."

The uptick in spending will be welcome news for equipment vendors, who saw equipment sales shrink by a CAGR of -1% between 2008 and 2013 (assuming, of course, there's truly such a thing as negative CAGR). Dell'Oro defines the market as sales of equipment for access, carrier IP telephony, microwave, mobile RAN, optical, service provider routers, service provider Wi-Fi, and wireless packet core applications.

Overall, wireless spending will increase at a 1% CAGR rate over the forecast period, while wireline spending will grow at a CAGR of 3%. Microwave, optical, service provider routers, and wireless packet core equipment sales will provide most of the growth, Dell'Oro believes.

For more information on high-speed transmission systems and suppliers, visit the Lightwave Buyer's Guide.