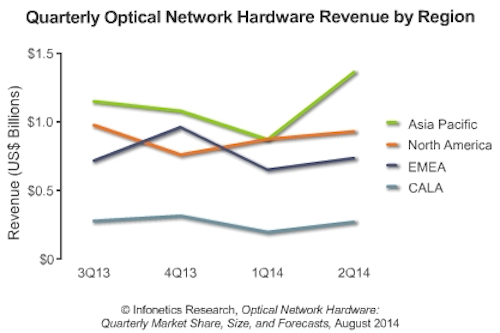 Spending on optical network hardware grew 27% sequentially in the second quarter of 2014, coming in at $3.3 billion, according to Infonetics Research. Web 2.0 services providers buttressed North American sales, while Huawei and ZTE benefited from strong Asia Pacific spending.

Internet content providers such as Google led an estimated $40 million cash infusion into the North American market, according to the market research firm's upcoming 2nd quarter 2014 (2Q14) "Optical Network Hardware" report.

"While the term 'Tier 1' is traditionally associated with the incumbent operators of Europe and RBOCs in North America, it is now qualitatively clear that Tier 1 spending growth is coming from the competitive dark fiber and Internet exchange carriers," explained Andrew Schmitt, principal analyst for carrier transport networking at Infonetics Research. "These carriers, as well as vertically integrated internet content providers (ICPs), provide a growing portion of core internet connectivity and intra-data-center capacity."

Optical hardware vendors such as ADVA Optical Networking, BTI Systems, and Infinera benefited most from the uptick in spending among such alternative network operators, Infonetics reported.

WDM spending, particularly for 100-Gbps applications, continued to be an overall area of strength. WDM sales overall were up 6% year-on-year, Infonetics revealed.

Regionally, strength in North America and Asia Pacific offset continuing weak sales in the Europe/Middle East/Africa (EMEA) market. Ciena and Infinera saw a significant boost in North American revenues versus 2Q13, while Fujitsu and Alcatel-Lucent saw their sales slump in the region.

Overall, the $3.3 million in revenues for the quarter were roughly flat versus the year-ago quarter, according to the report, which Infonetics plans to release August 25. The quarterly report offers worldwide and regional market size, market share, forecasts through 2018, analysis, and trends for metro and long-haul SONET/SDH and WDM equipment, Ethernet optical ports, SONET/SDH/PoS ports, and WDM ports.

For more information on high-speed transmission systems and suppliers, visit the Lightwave Buyer's Guide.