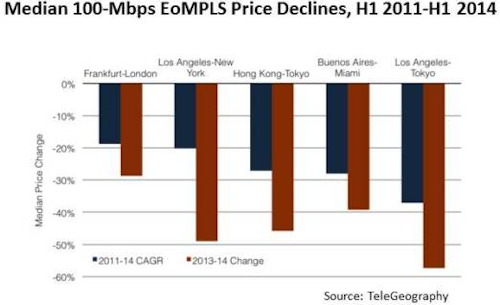 Service provider investments in Carrier Ethernet and related equipment is paying off in lower prices for Ethernet services, asserts TeleGeography's Ethernet Pricing Service. New data from the market research firm's Ethernet service watchdog suggests such offerings are also more widely available.

Median monthly lease prices for 100-Mbps point-to-point Ethernet over MPLS (EoMPLS) pseudowires dropped an average of 44% in the first half of this year compared to their year-ago levels, TeleGeography says. This price decrease is 4X greater than the 26% annual decline the market had seen since the first half of 2011, the Ethernet Pricing Service reports.

Meanwhile, on-net EoMPLS coverage jumped 17% in Latin America and 10% in Asia over the past 12 months, the market research firm reports. The price declines are not unrelated to this expanded coverage.

"Both global and regional carriers are expanding their on-net coverage and adjusting their prices as they seek to position themselves in the market," said TeleGeography analyst Brianna Boudreau. "Buyers can expect to see further price erosion as service availability continues to grow."

Over the past year, the median price of a 100-Mbps EoMPLS pseudowire between Buenos Aires and Miami shrank 39%, to $5321; meanwhile, the median price of a similar link between Hong Kong and Tokyo fell 46%, to $4200 per month. Both declines beat the previous annualized rate of 28% and 27%, respectively.

North American and European Ethernet services customers enjoyed similar price declines, as the chart below illustrates: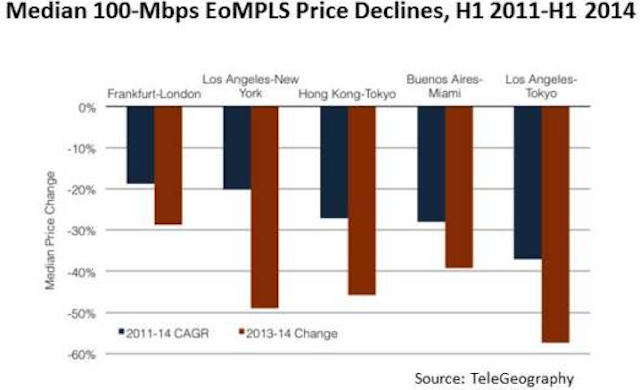 The median 100-Mbps EoMPLS price between Los Angeles and New York declined to $943 in the first six months of this year, while the cost of a similar service between Frankfurt and London reached $725. Overall Ethernet services coverage in the U.S. grew 12% over the past 12 months and increased 10% in Europe, TeleGeography reports.

TeleGeography's Ethernet Pricing Service tracks the price of long-haul and international Ethernet services by provider, capacity, service, and route.

For more information on Carrier Ethernet equipment and suppliers, visit the Lightwave Buyer's Guide.

Want to learn more about Ethernet innovation? Attend the Lightwave Optical Innovation Summit
The Lightwave Optical Innovation Summit will feature panels and presentations that will illuminate where optical innovation is required in carrier and enterprise/data center networks, what it should look like, and when it might appear. A wide range of experts from the user, technology development, academic, and analyst communities will offer their views on innovation in a variety of areas, including Ethernet. Find out more about the Summit, which will be held in Austin, TX, July 14-16, at the Lightwave Optical Innovation Summit website.