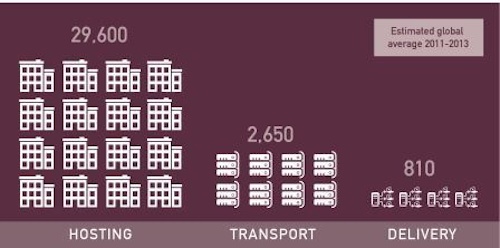 Market research and consultancy firm Analysys Mason (which created the above image as part of an infographic) estimates that content and application providers and the companies hoping to serve them spend more than $30 billion per year on physical networks, facilities, and equipment. According to the company's just released "Investment in networks, facilities, and equipment by Content and Application Providers" report, such companies invested almost $100 billion between 2011 and 2013 to meet the content provider's infrastructure needs – mostly in Europe.

Content and application providers covered in the study include "pure" online companies such as Spotify, Google, and Facebook, as well as the online businesses of multi-platform players such as the BBC and the New YorkTimes. The money goes to the construction of data centers, submarine cables, and servers, according to the report, which Analysys Mason says Google commissioned.

The investment by content and application providers in networks, facilities, and equipment, or by service providers on their behalf, ranged from approximately $28 billion to $36 billion annually between 2011 and 2013, with a blended average of approximately $33 billion per year, according to the report. The content and application providers picked up most of this tab themselves -- around $25 billion annually. The vast majority of this money (all but $1 billion) went to meet hosting needs, but these companies are spending an increasing amount of money on communications infrastructure, Analysys Mason asserts (see, for example, "Google joins Asian carriers to build FASTER submarine network").

"Internet players are already putting big money on the table – and into the ground and under the sea," said David Abecassis and Andrew Kloeden, co-authors of the report. "They are getting into increasingly large partnerships with investors and telecom operators. That comes in addition to investment in their core business of content and software."

More than a third of this money is spent in Europe, which the market research and consulting firm suggests "recognizes Europe's role as a hub for Internet traffic." The report cites the fact that many international cables meet in Europe, the region hosts the world's largest IXPs, and it has a large population of Internet users.

For more information on high-speed transmission systems and suppliers, visit the Lightwave Buyer's Guide.