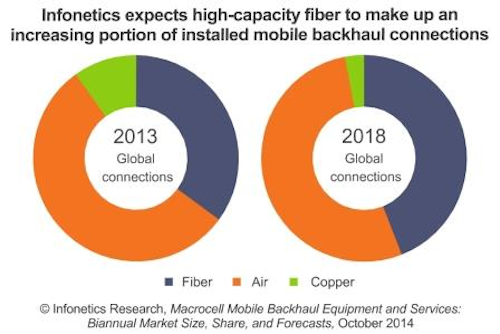 With operators increasingly turning their focus to small cell deployments, the market growth for macrocell mobile backhaul equipment has begun to slow, according to the latest report from Infonetics Research. The market research firm reveals in its new "Macrocell Mobile Backhaul Equipment and Services" report that macrocell mobile backhaul equipment sales totaled $8.4 billion in 2013, but will only grow to $8.5 billion this year.

"The macrocell mobile backhaul equipment market continues to be driven by demand for capacity increases to support LTE deployment and 3G network expansion. But there will be few greenfield macro base station deployments and this, combined with increasing pressure on equipment pricing, inhibits revenue growth in the long term," said Richard Webb, directing analyst for mobile backhaul and small cells at Infonetics Research.

Microwave gear will represent 48% of this year's spend, the report states. However, Infonetics predicts this share will decline in future years as more operators turn to fiber-optic cable and other wired mobile backhaul approaches. Meanwhile, IP edge router sales for macrocell mobile backhaul applications will increase this year and continue through 2018, Infonetics believes. Sales of such platforms for macrocell mobile backhaul should exhibit a compound annual growth rate (CAGR) of 2.4% between 2013 and 2018.

Overall, Infonetics expect operators to spend a cumulative $45 billion on macrocell mobile backhaul equipment from the start of 2014 through 2018.

Infonetics' biannual macrocell mobile backhaul reports this year will provide worldwide and regional market share, market size, forecasts through 2018, analysis, and trends for macrocell mobile backhaul equipment, connections, and installed cell sites by technology. The reports also will include an Operator Strategies Tracker.

For more information on high-speed transmission systems and suppliers, visit the Lightwave Buyer's Guide.