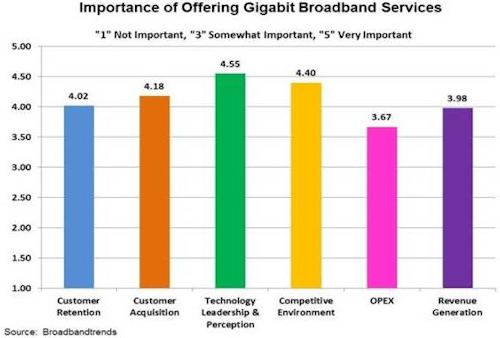 A new survey of broadband service providers from Broadbandtrends revealed that a desire to be perceived as a technology leader is the leading driver for the current spate of gigabit broadband deployments. Such deployments are moving forward despite doubts operators expressed about customer needs for such speeds, according to the market research firm's 2014 "Global Service Provider Survey – Gigabit Broadband Services."

"Being perceived as a technology leader was the overwhelming driver for gigabit broadband deployments, as operators seek that competitive edge that will enable both subscriber and revenue growth," states Teresa Mastrangelo, principal analyst with Broadbandtrends. "For some operators, particularly municipalities, gigabit broadband is proving to be the foundation that can improve and enrich education, healthcare, and public services as well as the economic engine for growth, investment, and job creation."

As the chart above highlights, competition complements – and perhaps feeds – the perceived value of technological leadership, the survey results also indicate.

The greatest brake on gigabit rollout plans is an uncertainty about customer demand for such services, the survey also revealed. Operators expressed a significant amount of uncertainty about potential take rates, according to Broadbandtrends.

Perhaps for this reason, those operators who have offered gigabit services are focusing on business and institutional investors first, survey responses reveal. Cloud-based backup and support, as well as future ultra HD (4K) services, are seen as drivers of gigabit broadband service demand.

The target market for gigabit broadband can drive technology choice, Broadbandtrends says. Operators focused on residential customers favor GPON fiber to the home (FTTH) infrastructure, which those marketing primarily to businesses and institutions like point-to-point Ethernet architectures.

Survey respondents named Calix the top FTTH equipment vendor for gigabit services support, followed by Cisco and ADTRAN.

The 26-page "Gigabit Broadband Services Survey" report is based on interviews with decision makers at 88 broadband operators in North America, EMEA, Asia Pacific, and CALA about their plans for providing and deploying Gigabit Broadband Services. The report offers insight into deployment timing, key drivers, key challenges, technology selection, current and future service offerings; pre-registration requirements; gigabit broadband availability (2014-2018), and anticipated gigabit broadband take rates (5-year period). The survey also reports operator ratings of FTTH vendors across multiple criteria.

For more information on FTTx equipment and suppliers, visit the Lightwave Buyer's Guide.