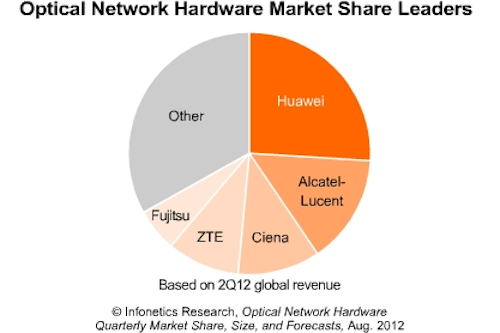 After a down quarter over the first three months of 2012 (see "Infonetics: Optical network spending slips 23% in 1Q12"), optical network systems manufacturers saw sales increase sequentially by 15% in 2012, according to market research firm Infonetics Research. However, year-on-year, 2Q12 was off 10% Infonetics says in its 2Q12 Optical Network Hardware vendor market share report.

For many companies, future prospects depend on their product mix, says Infonetics

"The optical hardware market outlook looks decidedly different depending on which market you sell into," explains Andrew Schmitt, principal analyst for optical at Infonetics Research. "While spending on WDM is reasonably healthy, SONET/SDH is sailing off a cliff. Vendors who have good WDM products but large exposure to SONET/SDH are struggling to replace lost revenue fast enough to show growth."

For example, North American SONET/SDH spending shrank 45% in the second quarter year-over-year. Those companies with heavy exposure to AT&T suffered in particular, as that carrier has cut its SONET spending significantly. Overall, WDM equipment now accounts for 80% of all optical spending in North America, according to Infonetics.

Huawei extended its market share lead during the quarter, thanks in part to an uptick in spending by carriers in the Asia Pacific sector. Winds from this direction will continue to fill Huawei's sails as well as boost ZTE, Schmitt believes. "Asia Pacific notched a big increase in the second quarter, with large seasonal gains by Huawei and ZTE," he says. "Despite tepid growth in the first half of 2012, we expect significant growth in optical spending in China, where ZTE continues to take market share from Huawei."

Alcatel-Lucent held onto second place in optical network sales, thanks to a revenue increase of 5%. Ciena posted its strongest quarter ever to maintaining third place overall and slip into second in WDM sales. This chart shows the current market share standings: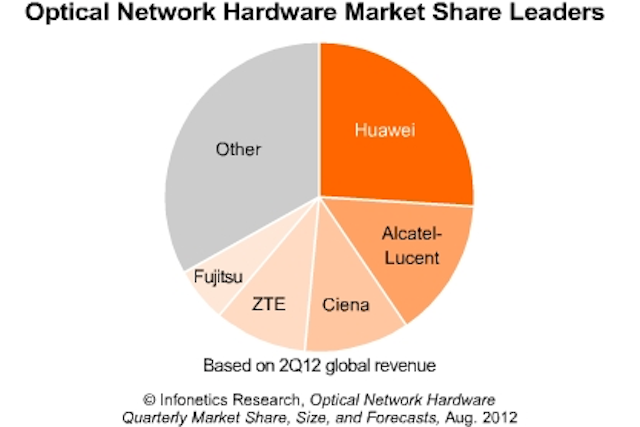 Despite repeated lamentations about the region's economic state, optical equipment sales in Europe, the Middle East, and Africa (EMEA) rose strongly in 2Q12, although followed the overall trend of failing to match sales in the second quarter of 2011. Spending growth on WDM equipment outpaced that on SDH gear, which Infonetics sees as a positive indicator for the region as it implies carriers were doing more than just maintaining current systems.

Infonetics' quarterly Optical Network Hardware report covers worldwide and regional market share, market size, and analysis for metro and long-haul SONET/SDH and WDM equipment, Ethernet optical ports, SONET/SDH/PoS ports, and WDM ports.