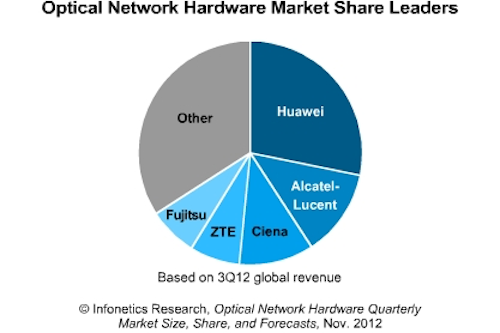 Continued growth in spending on WDM equipment was not enough to offset the steep decline in SONET/SDH system revenues, leading to a 2% sequential decline in fiber-optic network hardware sales in the third quarter of 2012. Infonetics Research reported the details in its 3Q12 Optical Network Hardware vendor market share report.

The disappointing results came after a successful 2Q12 (see "Infonetics: Optical network systems revenue jumps 15% in 2Q12"). Sales of WDM equipment grew 6.9% sequentially in 3Q12, Infonetics says. However, SONET/SDH sales dropped 19% versus the previous quarter and 33% year-on-year.

"Investment in new WDM gear is growing, but it isn't growing fast enough to offset the accelerated declines in SONET/SDH," says Andrew Schmitt, principal analyst for optical at Infonetics Research and author of the report. "SONET/SDH spending hit another all-time low in the third quarter, as architectural shifts in wireless backhaul quicken its transition into obsolescence. Carriers aren't allocating scarce capital to out-of-date equipment."

Overall optical network hardware sales in North America and Europe, the Middle East, and Africa (EMEA) were "relatively weak," Schmitt and Infonetics report. However, Schmitt expects North American revenues to resume moderate growth in 4Q12, thanks to more spending from AT&T and Verizon.

Schmitt sees other rays of light on the horizon. "On a brighter note, there's an investment cycle set to begin next year in the core network that's based on 100G coherent and supported by the massive ramp in 100G prototyping and trialing activities that are already underway worldwide," he says.

NEC, Fujitsu, and Infinera made the best of 3Q12, with success in ROADM sales increasing their revenues by double digits. Conversely, Alcatel-Lucent suffered its worst quarter ever, with particular weakness in its WDM sales.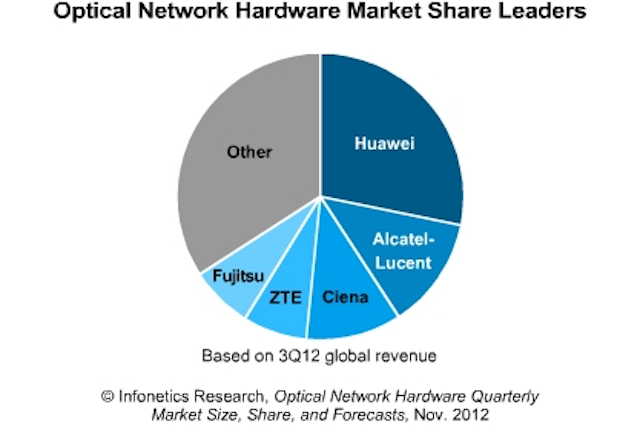 Infonetics' quarterly optical network hardware report provides worldwide and regional market size, market share, analysis, forecasts, and trends for metro and long-haul SONET/SDH and WDM equipment, Ethernet optical ports, SONET/SDH/PoS ports, and WDM ports.

For more information on high-speed transmission systems and suppliers, visit the Lightwave Buyer's Guide.