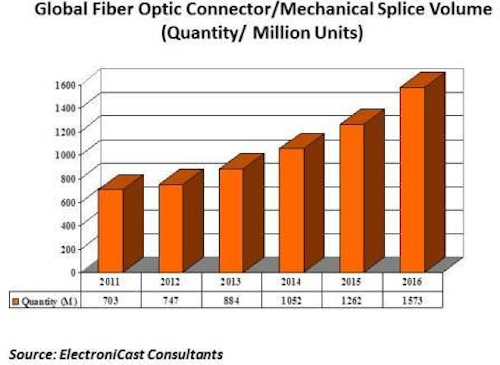 According to the latest report from ElectroniCast Consultants, consumption of fiber-optic connectors used in the American and Europe/Middle East/Africa (EMEA) regions is forecast to decline this year. However, recovery is expected in 2013, the company says.

ElectroniCast says the number of fiber-optic connectors and mechanical splices sold worldwide reached 703 million units in 2011. In the year 2016, the worldwide consumption volume is forecast to increase by a factor of two, to reach over 1.57 billion units.

The Americas region (North America, Central, and South America) led in global market share with 54% in 2011. Americas consumption is forecast to expand to at an average annual growth rate of 10.8% during the forecast period. The Asia Pacific (APAC) region is forecast to show the fastest growth with an average annual growth rate of 25% (2011-2016). EMEA fiber optic connector volume consumption, with 19.5% relative market share, trailed the second-place APAC region in 2011.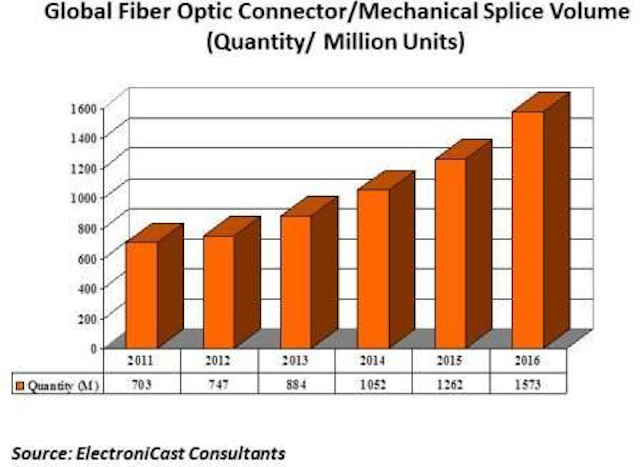 "Unlike the Asia Pacific region, due to a market situation in mainly the private enterprise and telecommunications end-user sectors, both the American and EMEA regions are forecast for negative consumption value this year (2012) -- however, recovering in 2013 and beyond," said Stephen Montgomery, director of the fiber optic component group at ElectroniCast.

But the overall trend remains up. As optical fiber use migrates closer and closer to the end user, where cable lengths are shorter with higher fiber counts, the requirements for joining fibers becomes more critical. "Fiber optic connectors (and mechanical splices) play a significant role in a network's cost and performance and they are increasingly used in applications where flexibility for routing or reconfiguring is necessary," Montgomery said.

ElectroniCast has released these figures it its new annual market forecast and analysis of the use of fiber-optic connectors and mechanical splices in communication applications. The 2011-2016 market analysis and forecast is presented for each significant type of fiber optic connector and mechanical splice used in selected communication applications.

For more information on fiber-optic connectors and suppliers, visit the Lightwave Buyers Guide.