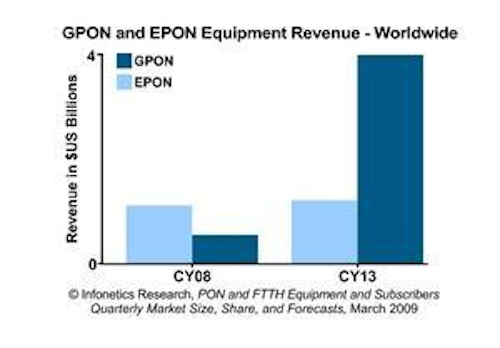 MARCH 13, 2009 -- In the 4Q08 edition of the PON and FTTH Equipment and Subscribers report, market research firm Infonetics Research (search Lightwave for Infonetics) shows year-over-year worldwide PON optical line terminal (OLT) and optical network terminal (ONT) manufacturer revenue is up 38% in 2008, led by the fast-growing GPON and EPON segments.
"The PON vendor landscape got interesting in the fourth quarter of 2008, with Alcatel-Lucent, Motorola, and Tellabs each grabbing 10% of worldwide revenue share, behind perennial leader Mitsubishi and the now number-two player, Fiberhome," says Jeff Heynen, directing analyst, broadband and video, Infonetics Research. "In the fast-growing GPON segment, front-runner Alcatel-Lucent is being seriously challenged by Motorola, which increased its quarterly GPON revenue share five points in 4Q08. Meanwhile, the EPON segment, long dominated by Mitsubishi and Hitachi, is seeing some action as Sumitomo, Fiberhome, and Dasan Networks all moved up."
Highlights from the report include:

Worldwide PON manufacturer revenue remained stable at $564 million in 4Q08, after a 24% growth spurt in 3Q08.

Flat spending overall in 4Q08 reflects a slight pause in GPON network buildouts outside the US but continued growth of EPON-based FTTH and FTTB deployments in Japan, South Korea, and China.

PON manufacturer revenue is forecast to grow at a rapid compound annual growth rate (CAGR) of 23% between 2008 and 2013, as the shift from copper- to fiber-based broadband access drives growth in this market around the world.

Operators around the globe are prioritizing deep fiber deployments to stem the loss of copper-based access lines, reduce operating expenses, and increase revenue via premium broadband, IPTV, online gaming, and femtocells.

The current economic climate is expected to have a minimal impact on FTTH equipment spending because it remains a top strategic priority at those operators who have committed to it.
Infonetics' PON report provides worldwide and regional market size, select market share, analysis, and forecasts through 2013 for BPON, EPON, GPON, and WDM-PON equipment, FTTH and FTTB OLTs and ONTs, and FTTH and Ethernet FTTH customer premises equipment (CPE) and service provider equipment, as well as ports (PON, POTS, Ethernet, DSL) and subscribers (PON, PON FTTH, Ethernet FTTH). Customizable PON subscriber pivot tables are included.
Companies tracked in Infonetics' PON report include Alcatel-Lucent, Allied Telesis, Alloptic, Calix, Ciena, Cisco, Corecess, Dasan, Dionet, ECI, Ericsson, FiberHome, Fujitsu, Furukawa, Hitachi, Huawei, LG Nortel, Mitsubishi, Motorola, NEC, Nokia Siemens, Occam, Oki, PacketFront, Sagem, Salira, Samsung, Sumitomo, Telco Systems, Tellabs, Ubiquoss, UTStarcom, ZTE, and others.

Visit Infonetics Research