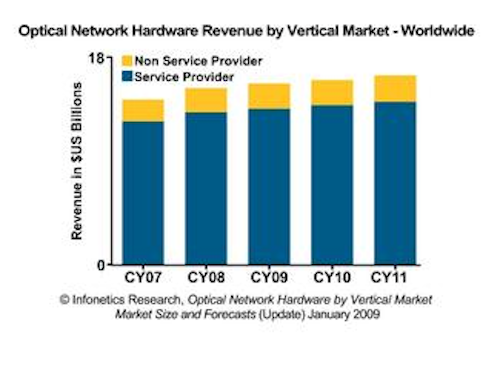 JANUARY 14, 2009 -- According to Infonetics Research (search for Infonetics Research), non-service provider verticals represent roughly $1 of every $7 invested in optical equipment and are a growing opportunity for optical network equipment vendors. The company last week released its updated "Optical Network Hardware by Vertical Market" report, which tracks 12 service provider and non-service provider vertical markets in all world regions.
"Non-service provider verticals as a whole and the finance and government sectors in particular are buying more optical equipment, both for long haul and metro deployments," reports Michael Howard, principal analyst at Infonetics Research. "Their optical equipment purchases are being driven by the need for high capacity, highly available storage extension, data center interconnection for businesses, and secure transmission. There are a lot of interesting applications being used by the government, education, finance, and utility sectors for which they buy their own optical equipment, and these will continue to grow over the next few years," he says.
Other highlights from the updated report include the following:
• Service provider investment in optical network equipment continues to be driven by IP network transformation projects and growing traffic from business services, residential triple play, and mobile backhaul.
• Service providers buy the lion's share of optical network equipment, of course, with incumbent telcos and mobile operators making up close to 2/3 of all service provider optical purchases.
• Internet content providers (ICPs) such as Google, Yahoo, and MSN are expected to increase their spending on optical network hardware by 10% worldwide from 2009 to 2011.
• Metro WDM optical equipment is a fast growing area of investment for non-service provider verticals, especially finance and government.
Infonetics' report provides worldwide and regional market size, forecasts, and analysis for WDM and SONET/SDH optical network gear used in metro and long haul networks, broken into four service provider verticals (incumbent telco and mobile operators, competitive telcos, cable operators/MSOs, ICPs), and eight non-service provider verticals (education and research, government, finance, healthcare, media and entertainment, transportation, utilities, and other). The report now provides actual and forecasted revenue for all 12 verticals by metro WDM, metro SONET/SDH, long haul WDM, and long haul SONET/SDH optical equipment.

Visit Infonetics Research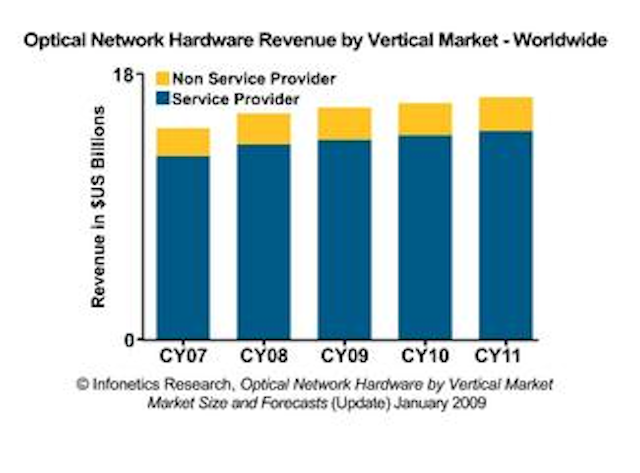 Incumbent telcos and mobile operators still comprise nearly 2/3 of all service provider optical purchases.