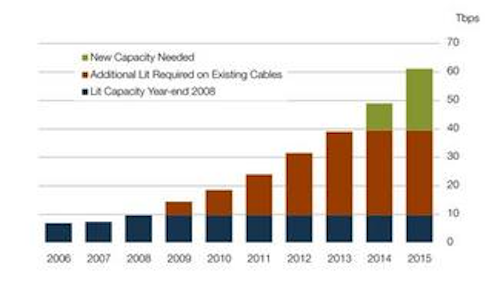 JUNE 22, 2009 -- Despite the balancing of supply, demand, and price since the turmoil of the early 2000s, the market for trans-Atlantic bandwidth faces a looming supply hurdle, according to Telegeography (search Lightwave for Telegeography).
The trans-Atlantic submarine cable market was a stark example of the capacity glut in the early 2000s. Six new cables entered service between 2000 and 2003, exceeding near-term requirements. The excess capacity and competition crushed prices, resulting in bankruptcies and financial restructuring.
The bandwidth glut now lies in the past: Rapidly growing international bandwidth requirements restored the balance of supply and demand, and cable operators have been adding capacity to their networks since 2004. Superficially, the trans-Atlantic market now appears sound: prices have stabilized, and demand grew 38% percent in 2008. However, says the industry researcher, clouds loom on the horizon.
According to new projections from TeleGeography's Global Bandwidth Forecast Service, bandwidth requirements will grow 33% (CAGR) between 2008 and 2015. At this rate, trans-Atlantic capacity will be exhausted by 2014, and cables providing diversity along geographically unique routes may run out of capacity even sooner.
New capacity will clearly be needed; less clear is who will deploy this capacity, how they will deploy it, and how they will finance it. The bandwidth glut at the start of the decade forced cable operators to restructure their finances or to file for bankruptcy, writing off the cost of cable construction. Consequently, current wholesale rates of approximately $14,000 per month for a 10-Gbps wavelength reflect the incremental cost of the optical equipment needed to provision the circuit but not the cost of cable construction.
"Trans-Atlantic cable operators and wholesale buyers are facing a slow-motion crisis," says analyst Alan Mauldin. "The cost of circuits on a new cable built today would be far higher than prices prevailing in the market."
While 2014 is five years off, lengthy cable financing and construction cycles mean that carriers must confront this challenge far sooner. New technologies, such as 40-Gbps transmission line rates, may allow operators to expand capacity on some existing systems, delaying the need for new cables. However, these technologies remain unproven on a commercial long-haul submarine cable, and will only postpone the inevitable day of reckoning, the company forecasts.

Visit TeleGeography