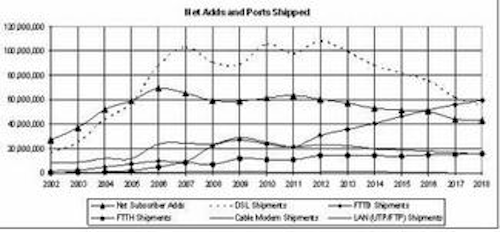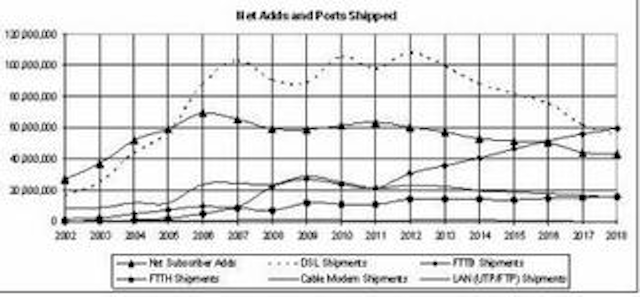 FEBRUARY 13, 2009 -- Dittberner's recently released report Global Fixed Broadband Subscriber Forecast: 2008-2018 predicts that fixed broadband port shipments will be 138 million ports in 2009 compared to 145 million in 2008. Shipments will climb to 175 million in 2012 before sliding back to 2009 levels in 2018.
The report details actual global fixed broadband port shipments for 2001-2008 and forecasts shipments for the years 2009-2018 for DSL, cable modem, FTTB, FTTH, and UTP/FTP LAN.
DSL shipments remain the leader until 2018, when FTTB shipments overtake it. The report forecasts DSL shipments as being stronger through 2018 than the 2017 report did, because China's government has made increasing PC households a priority and the world's largest market had its growth limited by the number of PC households. This fact also caused the number of FTTB shipment forecasted to increase as well.
The spurring of growth in China contributed to the oscillations in the subscriber growth and port shipments curves. These oscillations are also artifacts of slowing growth in mature markets and accelerating growth in developing markets occurring at slightly different years, and the timing of network upgrades in countries like Japan Korea, and the USA.
Cable modem growth is seen as stable, because as developed countries saturate, developing countries, such as India, will be growing. DOCSIS 3.0 is unlikely to change the shipments for other technologies, as it is seen as a successful retention strategy. FTTB, which is used in conjunction with VDSL or Ethernet LANs, is seen as the strongest growing technology by 2018, because it provides high bandwidth and is economical to install. The high cost of FTTH is seen as an inhibitor to its growth throughout the study period.
The report uses past broadband growth, teledensity, fixed-line infrastructure information, cable-TV infrastructure information, PC ownership, and consumer buying preferences to provide the most accurate model possible of the evolving broadband market. The market Dittberner sees in 2018 will be vastly different from today's market, providing great opportunities as network upgrades replaces subscriber growth as the engine driving shipments.
Visit Dittberner
For more FTTH news and resources, visit the FTTX Resource Center