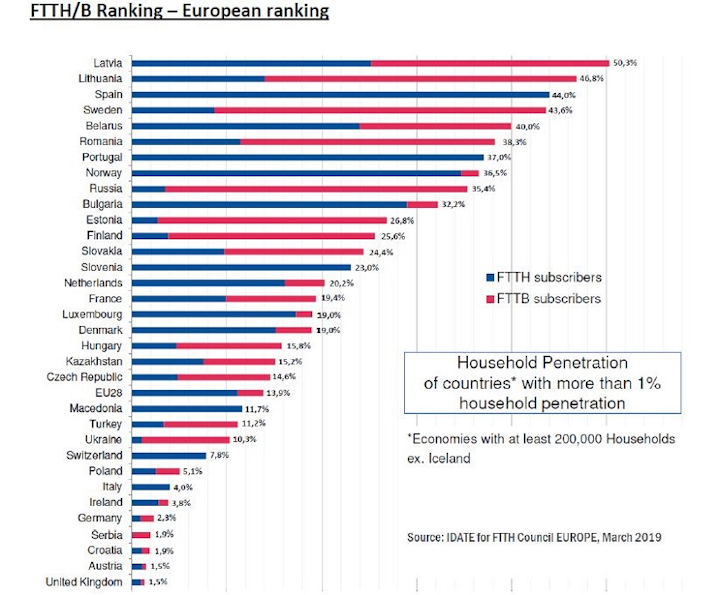 The UK's long fiber to the home (FTTH) nightmare is over: The kingdom has finally made the global FTTH/B rankings list. A country, economy, kingdom, etc., must have more than 1% of its subscribers served by all-fiber broadband networks to make the list, and the FTTH Council Europe and its research partner IDATE announced earlier this month at the council's conference and exhibition in Amsterdam that 1.3% of the UK population enjoys such benefits.
Several alternative network operators, such as Hyperoptic and CityFibre, have combined with BT's independent subsidiary Openreach to build out FTTH and fiber to the building (FTTB) infrastructure, with new entrants entering the market as well. This momentum has created a significant jump in fiber-fed broadband subscribers; all-fiber subscribers grew 83% between September 2017 and September 2018 to reach 369,250, IDATE and the FTTH Council Europe report. Homes passed increased by 22.8% during the same period tohit 2,817,000. IDATE expects similar growth in the future, leading the market research firm to forecast that the UK will become the second largest FTTH/B market in Europe by 2025.
Russia, the current largest market, will retain its top ranking through 2025, IDATE says. The country saw its all-fiber broadband subscriber numbers increase by 1,256,000 over the 12 months ended last September. However, Spain and France saw the greatest increase in raw numbers. Spain added 1,858,743 new subscribers, and France 1,480,220. Italy, now undergoing a significant fiber network roll out, enjoyed the largest growth in homes passed with a 43.1% increase.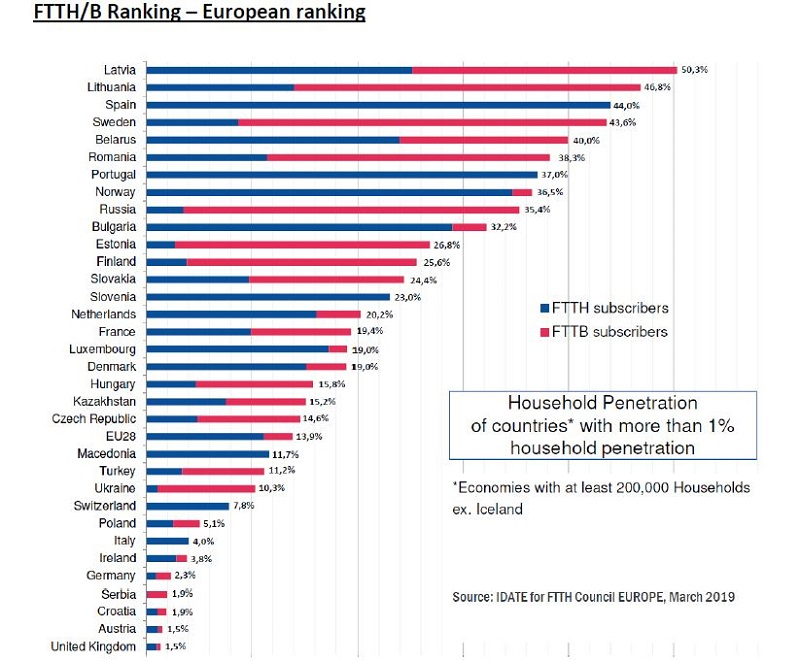 Overall, FTTH/B reached 46.4% in the EU39 and 36.4% in the EU28. Take-up rates grew year over year to 37.4% for the EU39 (versus the previous 34.8%) and he previous year with a take-up rate for 38.2% for the EU28.
"These new figures show a momentum that is accelerating over the last few years," commented Ronan Kelly, president of the FTTH Council. "Full fiber is the way forward and the results of the Market Panorama provide compelling evidence of this. Fiber expansion is booming in many countries and today more consumers are aware of the benefits of fiber. Our job is not done, however, there is still a long way to go until every citizen and business has access to the benefits of full fiber in Europe."
For related articles, visit the FTTx Topic Center.
For more information on FTTx technology and suppliers, visit the Lightwave Buyer's Guide.