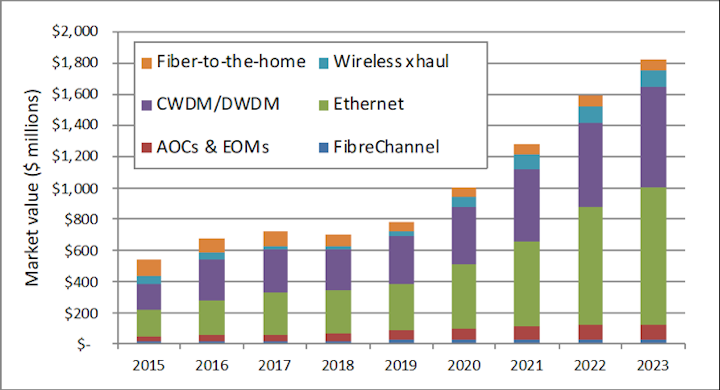 LightCounting says happy days are here again for the makers of communications semiconductors for optical transceivers. In a new report, the market research firm says the market will move past a period of relative stagnation to achieve a compound annual growth rate (CAGR) of 24% between 2019 and 2023. DSPs for coherent transmission and PAM4 applications will spark the growth spurt, LightCounting predicts.
Sales of coherent DSPs will outpace their PAM4 counterparts, says LightCounting. Of course, coherent DSPs are well entrenched in networks around the world, while PAM4 is just beginning to make its mark. Near term, LightCounting reports that 200G CFP2-DCO and board-mounted 600G optics interest will help drive coherent DSP sales. However, PAM4 will begin to come into its own relatively quickly for 200 Gigabit Ethernet and 400 Gigabit Ethernet data center applications. LightCounting therefore expects the gap between coherent and PAM4 DSP sales to narrow during the forecast period. In fact, the market research firm predicts PAM4 DSP volumes will grow to 10X those of coherent DSPs within the 2020-2023 timeframe. The greater cost of coherent chips will keep the revenue lead with such devices, LightCounting points out.
LightCounting analysts expect demand for the two DSP types to overlap most strongly in 40-km data center interconnect applications at both 100 Gigabit Ethernet and 400 Gigabit Ethernet transmission rates.
For related articles, visit the Business Topic Center.
For more information on communications semiconductors and suppliers, visit the Lightwave Buyer's Guide.