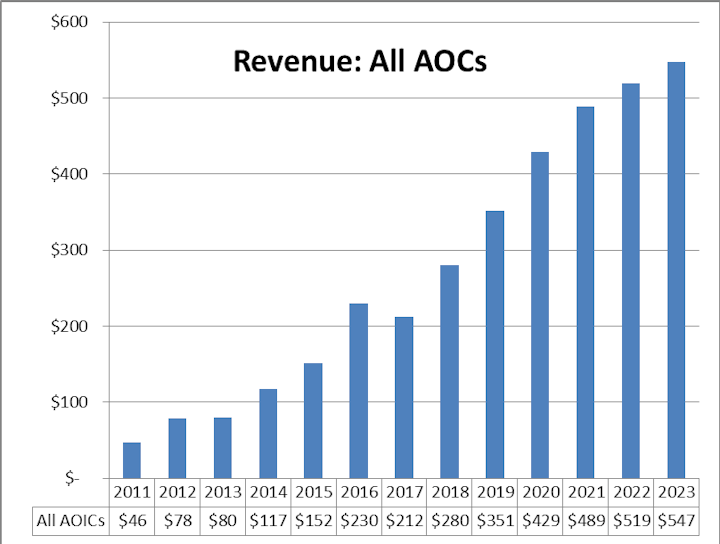 LightCounting has released the two-part "2018 Active Optical Cable and Embedded Optical Modules Market Analysis and Forecast Report," in which it calls for steady revenue growth in both segments through 2023 – albeit, in the case of active optical cables (AOCs), with a bit less vigor than previously.
Price declines will offset the growth in AOC shipments in some years, according to the market research firm. For example, the latest report predicts approximately 30% more unit shipments in 2022 than last year's edition. However, the new revenue forecast for 2022 is 18% smaller than that included in last year's report, thanks to price reductions as well as a greater percentage of single-channel AOC purchases. The fact that Chinese and other data center operators frequently use single-channel AOCs to connect servers to first tier switches accounts for the expected uptick in purchases of such links. Meanwhile, Chinese data center operators usually don't use AOCs to connect switches, which dampens the potential demand for Ethernet four-channel AOCs typically used in such applications, the market research firm explains.
Meanwhile, LightCounting sees the high-performance computing (HPC) and data center segments rapidly adopting 100G AOCs. The market research firm believes the HPC space will begin to move toward 200G AOCs this year. However, it doesn't see the data center market adopting 200G Ethernet AOCs with the same enthusiasm.
Within the electro-optic module (EOM) space, LightCounting analysts expect the technology's bumpy ride this decade will smooth into a nice revenue growth path (see graph below). EOMs provide connectivity within custom supercomputers, telecom equipment, and the largest core routers. LightCounting is more optimistic about the technology this year, predicting the 2022 EOM market will see about 20% more unit shipments and 29% more revenue than the firm's analysts did last year. The report authors foresee annual growth rates increasing strongly by 2020, with revenues increasing from $136 million in 2018 to $543 million in 2023.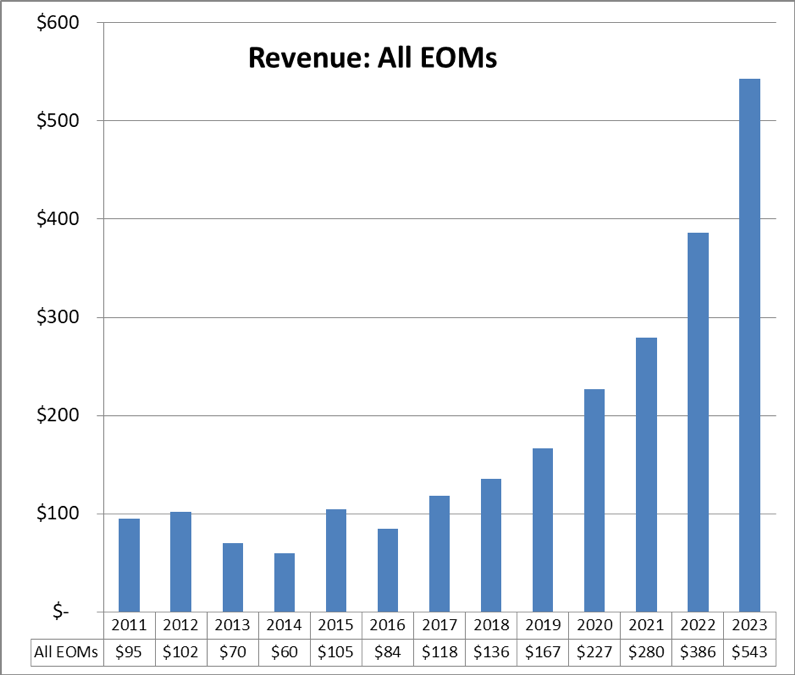 LightCounting predicts that revenues from embedded optical module sales will ramp through 2023 (Source: LightCounting).
The "2018 Active Optical Cable and Embedded Optical Modules Market Analysis and Forecast Report"presents data on annual AOC and EOM shipments, revenues, and average selling prices for 2011-2017 as well as forecasts for 2018-2023. The report authors analyze technologies, market trends, protocol transitions, data rates, and MSAs for InfiniBand, Ethernet, and other protocols. Products in 19 categories are individually tracked, forecasted, and mapped into five application segments: HPC, core routing, cloud, telecom equipment, and military/aerospace/other.
For related articles, visit the Business Topic Center.
For more information on optical modules and suppliers, visit the Lightwave Buyer's Guide.