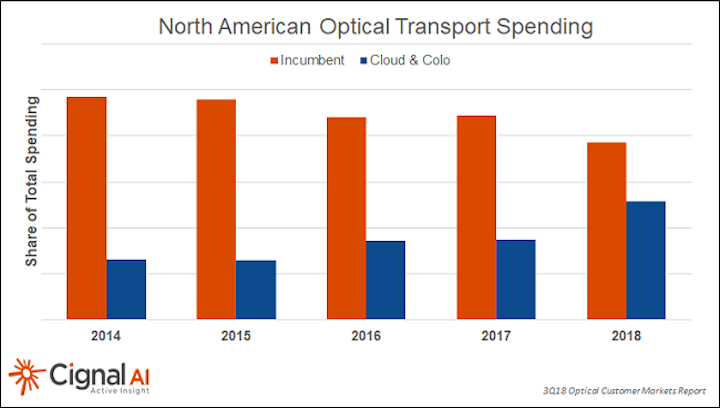 Cloud and colocation services providers continued their strong spending on optical network hardware in the third quarter of 2018, says Cignal AI. The segment's spend set another record during the quarter and will exceed $1.4 billion worldwide when year-end sales are tabulated, the market research firm predicts in its latest "Optical Customer Markets Report."
While 2017 was a down year for the niche, cloud and colocation service provider spending has roared back this year, according to the report. Third quarter sales to the segment increased by nearly 50% year-on-year, thanks to double-digit growth in North America and Europe/Middle East/Africa (EMEA) and triple-digit increases in Asia-Pacific. The positive results echo those Cignal AI reported in its "Optical Hardware Report" for the quarter (see "Asia up, North America down again in 3Q18 optical systems spending: Cignal AI").
"While incumbent operator spending is still dominant, especially in Asia, cloud and colo spending growth is becoming more influential on the market," notes Scott Wilkinson, lead analyst for optical hardware at Cignal AI. Ciena benefited most from the enthusiasm among cloud and colo operators, gaining more than 40% market share in the third quarter and more than 30% share for the last 12 months. Huawei and Cisco tied for second place in the quarter, with the newly combined Infinera and Coriant right behind.
The cloud and colo market segment will become increasingly important to optical systems vendors this year, as Cignal AI predicts the incumbent market will soften. Asia-Pacific incumbents increased spending 10% during 3Q18 (and represented more than 35% of the total optical market in the quarter), but the firm's analysts predict such double-digit year-on-year growth is unsustainable. Meanwhile, the declines seen among North American incumbents in 2018 should continue this year as they focus on 5G roll outs.
Cignal AI issues its "Optical Customer Markets Report" quarterly. The report covers optical equipment sales in five customer markets – incumbent, wholesale, cable MSO, cloud and colo, and enterprise and government. Regional forecasts based on expected spending trends by customer market are also included.
For related articles, visit the Business Topic Center.
For more information on high-speed transmission systems and suppliers, visit the Lightwave Buyer's Guide.