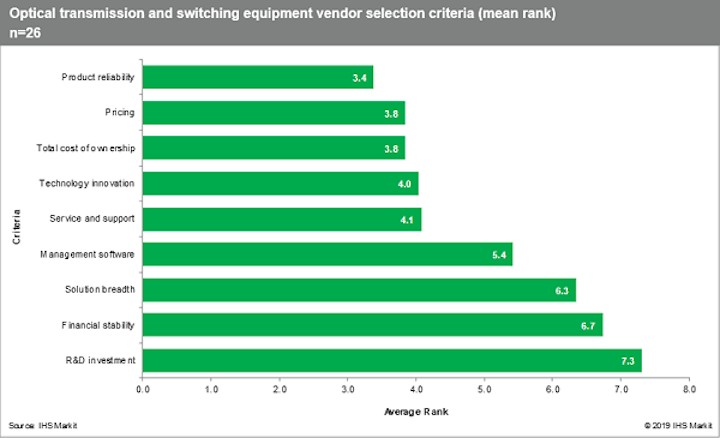 IHS Markit has released the results of its most recent optical transmission and switching brand preference survey. The results were good news for Ciena, Huawei, and Nokia, which again held the top three spots in the survey. Meanwhile, service providers also revealed the criteria they use to evaluate systems vendors.
Heidi Adams, executive director, network infrastructure, at IHS Markit, notes that the three top-of-mind systems houses also led in market share through the first three quarters of 2013 (which Huawei and Ciena swapping order). IHS Markit asked service provider survey respondents to evaluate companies with different market segments. Within the data center interconnect (DCI) segment, the one of two segments for which IHS Markit offered results to the press, Ciena was cited as niche leader in optical DCI, with Huawei and Infinera tied for second place. In the optical disaggregation arena, Ciena rose from third the previous year to a first-place result as well. Coriant (recently acquired by Infinera), Huawei, and Nokia tied for second place.
Asked to rank evaluation criteria for optical network hardware, survey respondents cited product reliability, pricing, and total cost of ownership as the three most important criteria. The importance of other criteria can be seen in the graphic above. Not surprisingly, the top three companies list above did well when evaluated against these criteria. Survey response indicated that Ciena is perceived as the leader in product reliability, technology innovation, management software, and investment in research and development. Huawei came out tops for pricing, total cost of ownership, solution breadth, and financial stability. Nokia was deemed best in service and support for optical networks.
The IHS Markit "Optical Equipment Vendor Leadership Service Provider Survey – 2018" report details survey results that illuminate how service providers evaluate and select optical transmission and switching equipment suppliers. It covers vendors installed and under evaluation and service provider opinions of vendors, including on key vendor-selection criteria.
For related articles, visit the Business Topic Center.
For more information on high-speed transmission systems and suppliers, visit the Lightwave Buyer's Guide.