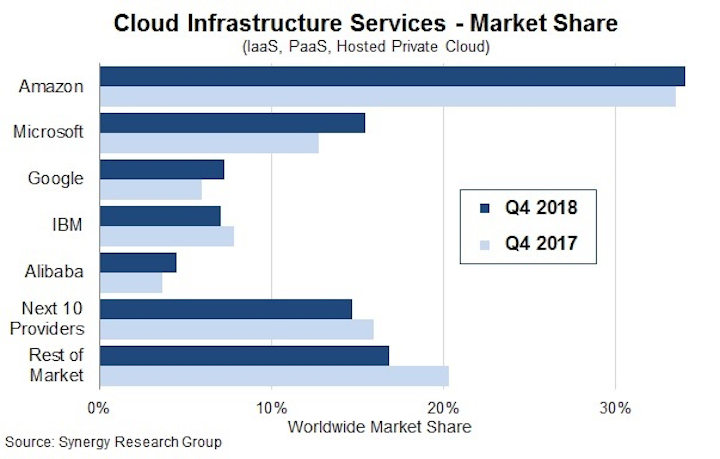 Synergy Research Group reports that cloud services providers capped a successful 2018 with a fourth quarter year-on-year increase in sales of 45%. Overall, cloud services providers saw their revenues grow 48% in 2018, and improvement over 2017 growth, says the market research firm.
Synergy estimates that quarterly cloud infrastructure service revenues (including IaaS, PaaS and hosted private cloud services) approached $20 billion in the final three months of 2018, leading to a full-year total of almost $70 billion. Public IaaS and PaaS services were most popular, and revenues from such services increased by 49% in the quarter.
Amazon dominated the space in 2018; it was equivalent in size to its four nearest competitors combined. That said, Microsoft, Google, and Alibaba enjoyed growth that surpassed that of the overall market, with Microsoft having a particularly good year. Their increase in market share came mainly at the expense of small-to-medium sized cloud services providers, a trend that extended throughout the year (see "Cloud services demand booms in 1Q18: Synergy Research"). Overall, the market share of smaller players shrank five percentage points by the end of the year.
"Q4 tops off a banner year for the cloud market with the annual growth rate actually nudging up from the previous year, which is an unusual phenomenon for a high-growth market of this scale," said John Dinsdale, a chief analyst at Synergy Research Group. "The rate at which the market leaders continue to expand is really rather impressive. In aggregate the top five drove up their revenues in these segments by 60% in 2018, which has caused us to review and increase our five-year forecast for the market. Inevitably there will be a few road bumps along the way, but these will be minor relative to the factors that continue to drive the market."
For related articles, visit the Business Topic Center.
For more information on high-speed transmission systems and suppliers, visit the Lightwave Buyer's Guide.