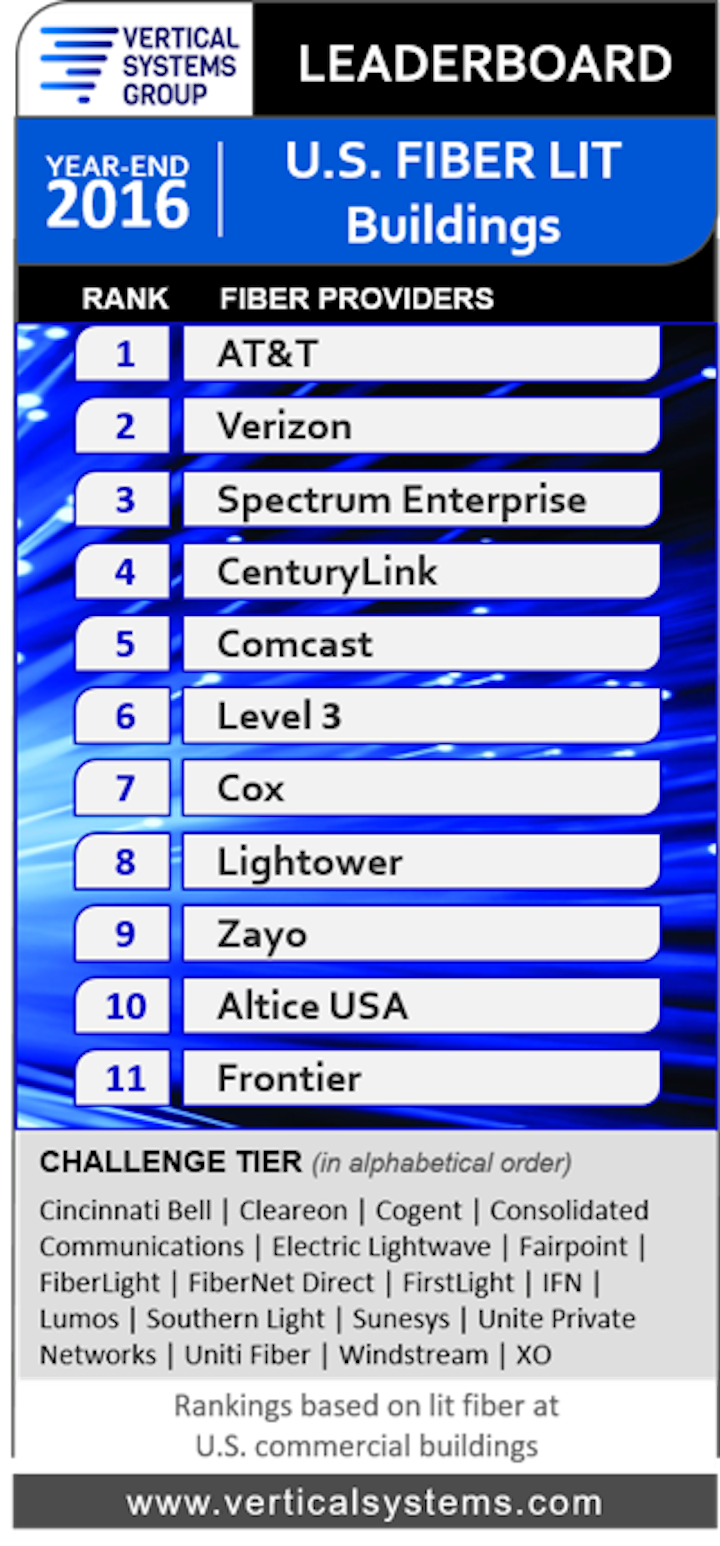 According to the Vertical Systems Group's first official U.S. Fiber Lit Buildings Leaderboard, AT&T and Verizon ranked in the top two positions respectively, based on results for year-end 2016.
The market research and consultant firm's recently released U.S. Fiber Lit Buildings Leaderboard ranks qualifying retail and wholesale fiber providers. Providers with 10,000 or more on-net fiber lit at U.S. commercial buildings qualified for this new benchmark.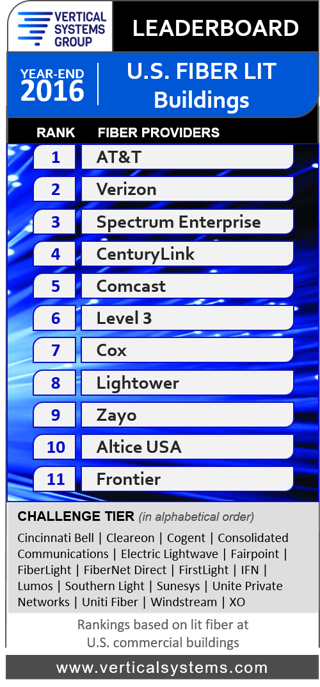 Spectrum Enterprise took the number three spot among the 11 companies that attained a position on the Leaderboard, while Altice USA and Frontier slid into the final positions (see chart for rank order by number of fiber lit buildings).
Below the top 11 are the "2016 Challenge Tier" which are providers with lit fiber connections to between 2,000 and 9,999 U.S. commercial buildings (see chart for qualifying companies). Among the 17 companies to qualify for the 2016 Fiber Lit Buildings Challenge Tier is Cincinnati Bell, which has recently expanded its network communications and enterprise IT services portfolios with a pair of acquisitions (see Cincinnati Bell to acquire Hawaiian Telcom, OnX Enterprise Solutions) "On-net fiber lit buildings are valued strategic assets that give retail and wholesale providers a competitive edge in profitably delivering services to business customers. A major benefit of a fiber lit building is ready connectivity with provisioning through service orchestration, without the construction cost and extensive lead time required to light a building" said Rosemary Cochran, Vertical Systems Group principal. "These dynamics are driving this year's acquisitions among fiber providers that will significantly impact the U.S. fiber landscape. Eighteen of the twenty-eight Fiber Leaderboard and Challenge Tier companies have fiber-related transactions just completed or pending."
Fiber providers with fewer than 2,000 U.S. commercial fiber lit buildings reside in the "2016 Market Players Tier". In this tier are more than 200 metro, regional, and other fiber providers, including EarthLink, WOW! (which just sold its Chicago fiber-optic network to Verizon), and Hawaiian Telecom, which (as noted above) was recently acquired by Cincinnati Bell.
For related articles, visit the Business Topic Center.
For more information on high-speed transmission systems and suppliers, visit the Lightwave Buyer's Guide.