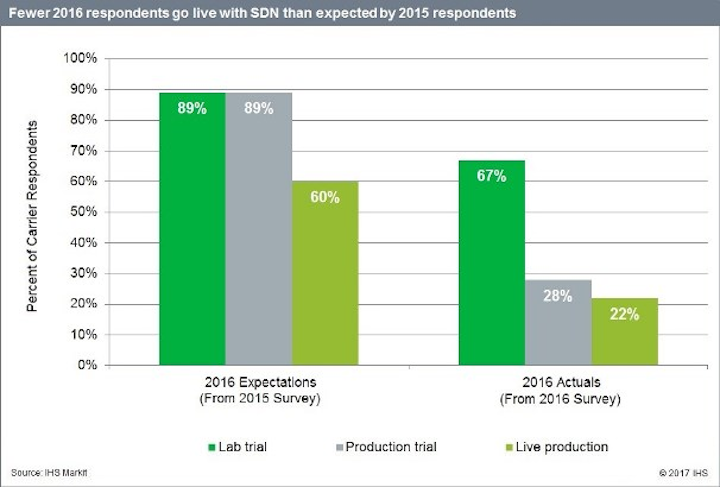 Network service providers are still doing more lab trials of software-defined networking (SDN) for their data centers than deployments, according to a survey IHS Markit conducted in 2016. The market research firm reports that two-thirds of survey respondents say that SDN for their data centers is in lab trials, down only marginally from the three-quarters figure report in 2015.
As shown in the chart above, survey respondents expected SDN to move more quickly to the deployment stage.
Suppliers of bare metal switches probably find themselves in the same state. Sales of such switches, expected to rise as SDN deployments progressed, have stalled according to IHS Markit. The market research firm says survey respondents report bare metal switch ports comprise, on average, 33% of their data center Ethernet switch ports, which is about the same percentage reported the previous year. However, 24% of bare metal switch ports on average are in-use for SDN, respondents say, which is better than the 12% recorded in the 2015 survey.
IHS Markit notes that such switches require skilled programmers for successful use and have seen the greatest acceptance among cloud services providers. Nevertheless, the company expects bare metal Ethernet switch ports in the data center to comprise 41% of respondents' deployments by 2018.
The silver lining for technology suppliers in the slow march toward SDN deployment is that there remains time to develop such critical components as SDN controllers, data center orchestration, and SDN application technology. While respondents named Cisco and Juniper Networks as the two leaders in SDN currently, IHS Markit says it doesn't expect the market to solidify until live deployments ramp – whenever that will be.
The 30-page 2016 data center SDN survey is currently available. It is based on interviews with service providers that have deployed or plan to deploy or evaluate SDN by the end of 2018 about their plans to evolve their data centers and adopt new technologies over the next 2 years. Respondents were asked about SDN deployment drivers, barriers, and timing; expected capex and opex changes with SDN; use cases; security technologies; applications; top-rated vendors; and more.
For related articles, visit the SDN/NFV Topic Center.
For more information on high-speed transmission systems and suppliers, visit the Lightwave Buyer's Guide.