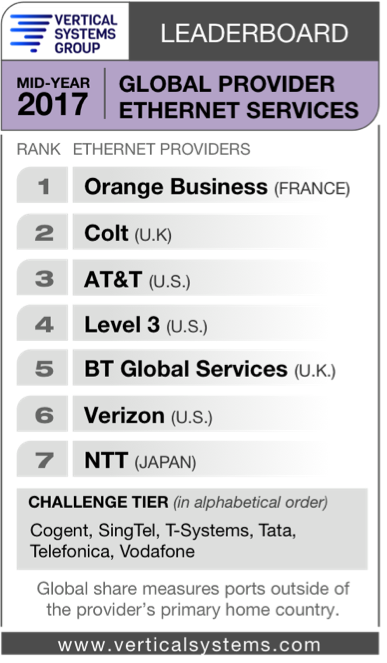 Vertical Systems Group has released its mid-year 2017 rankings of global Ethernet service providers, and there's not much new at the top. Orange Business, Colt, and AT&T maintained their previous positions in the first three positions. However, Level 3 (soon to be acquired by CenturyLink) crept over BT Global Services into fourth place on the scoreboard.
The market research firm's latest Global Provider Ethernet Services Leaderboard ranks global providers of Ethernet services based on mid-year 2017 retail port share results. The current rankings are based on companies that hold a 4% or higher share of billable retail ports at sites outside of their respective home countries.
Vertical Systems Group also tracks a "Challenge Tier" (see chart). Ethernet providers must have between 2% and 4% of this defined market to qualify for the Challenge Tier. As of mid-year, Cogent, SingTel,T-Systems, Tata Communications, Telefonica Worldwide, and Vodafoneare in the Challenge Tier. There is also a "Market Player" tier under the Challenge Tier, which includes a long list of global providers with port shares below 2%.
AT&T appears to be prepping for greater things in this space, based on the recent completion of a field test of single-wavelength 400 Gigabit Ethernet (400GbE). The successful trial positions the international Tier 1 provider to add 400GbE capabilities to its network backbones, and continue to provide faster speeds as customer demand grows (see "AT&T completes 400 Gigabit Ethernet trials using OpenROADM").
"Demand for global Ethernet networking continues to expand. As retail Ethernet providers extend their network footprints through partners worldwide, the growth outlook for wholesale services is increasing," said Rick Malone, principal of Vertical Systems Group. "Orchestration across multiple provider networks is the top challenge constraining new service deployments, according to our research. This obstacle is being addressed through collaboration among industry players and standards organizations, including efforts to standardize on open APIs and service specifications."
For related articles, visit the Business Topic Center.
For more information on high-speed transmission systems and suppliers, visit the Lightwave Buyer's Guide.