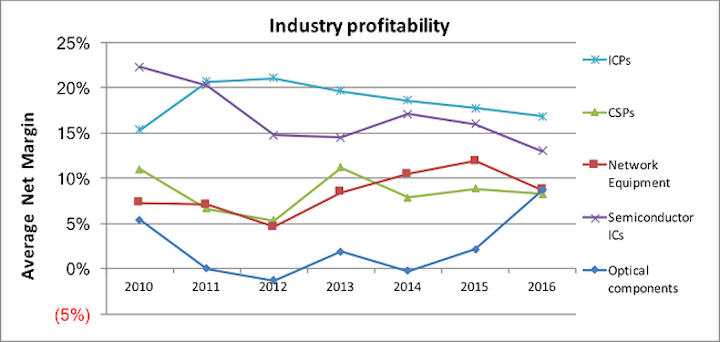 After suffering as a punching bag for financial analysts since the optical bubble burst early this century, optical component vendors saw profits skyrocketed last year. In fact, the category as a whole was more profitable than communications service providers, according to LightCounting's new "State of the Optical Communications Industry Report." In addition to reliving last year's glory, the market research firm takes a stab in the report at predicting how long the good times will last.
The optical component niche earned its previously sorry reputation by sporting the lowest sales-weighted average profit margins within the optical communications ecosystems over the last 15 years, LightCounting remarks (see graph above). However, the fact that demand for 100 Gigabit Ethernet modules exceeded supply in 2016, which limited price reductions and the effect of competition, drove a sharp increase in profitability in 2016. For example, aggregate net income of the publicly traded optical component and module vendors LightCounting tracks transformed from a $22 million loss in 2014 and $72 million gain in 2015 to a plus $422 million in 2016. Companies such as Acacia Communications, Finisar, Lumentum, and Oclaro saw significant increases in their profit margins, LightCounting notes.
Conversely, every other segment saw their margins decline in 2016; in the case of communications service providers, that decline was sufficient to enable the optical component and module segment to surpass them in terms of profitability.
With optical module and component vendors off to a slow start this year, thanks in large part to a softening in demand from customers in China, it's natural to wonder whether 2016 will be regarded as a brief ray of sunshine in the niche's generally overcast economic climate. LightCounting concedes that 2017 results won't match those of last year for component and module vendors. However, the market research firm believes that continued strong demand optics from internet content providers will take up much of the expected slack from China, which will enable companies in the space to maintain profitable status this year (see "ICP spending on Ethernet optics to double in 2017: LightCounting"). Profitability should return to an upward path in 2018, when Chinese demand should come back online, according to LightCounting analysts.
The "State of the Optical Communications Industry Report" aims to provide a holistic analysis of the global communications industry. It describes the business strategies of traditional telecom service providers and cloud companies, as well as their suppliers of networking equipment and optical and electronic components. The report also offers an analysis of revenue growth and profitability across different levels of the industry supply chain in 2010-2016 to identify challenges and opportunities. The report also includes a review of the mergers and acquisitions and their impact on the market.
For related articles, visit the Business Topic Center.
For more information on optical components, visit the Lightwave Buyer's Guide.