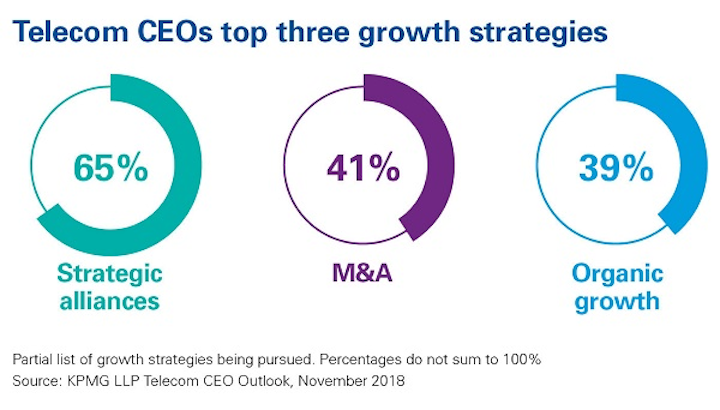 In the wake of some high-profile deals that have faced significant regulatory opposition (hello, AT&T/Time Warner), nearly 75% of CEOs at telecommunications companies report high to moderate interest in mergers and acquisitions (M&A), says KPMG LLP. They also believe there are opportunities to grow revenues in other ways, these U.S. CEOs indicated through their participation in a survey at the heart of the "2018 KPMG Telecom CEO Outlook" report.
"Although the number of mega-mergers have [sic] dominated telecom and media headlines recently, the majority of deals in the short-term are likely to fall within a more moderate range, potentially to fill in innovation or technology gaps," predicted Sean Sullivan, KPMG U.S. National Telecommunications Sector leader. "For many CEOs, M&A remains a consistent strategy to fostering top-line growth by transforming their business model faster than organic growth and eliminating a direct competitor."
However, as the graphic above suggests, these CEOs likely will pursue strategic partnerships more strongly than M&A. A significant percentage of them also feel that organic growth strategies should prove fruitful as well. Along with the common belief expressed in the responses that their companies' revenues will outpace that of the broader telecom sector as well as the U.S. and global economies, the faith in organic growth opportunities could be misplaced, Sullivan suggests.
"Telecom CEOs expressed a higher level of confidence in their ability to grow revenue than might be expected," said Sullivan. "While there is good reason for optimism within the industry; growth may be harder to achieve over the next three years as competitors from outside the sector build momentum and customer preferences shift from traditional products and services."
Those pesky millennials are driving many of these shifts, and 44% of survey respondents admitted their organizations see adaptation of their sales and distribution models to this demographic as a challenge. Perhaps not surprisingly, almost 50% of respondents indicated it is difficult to find senior leaders who can relate to millennials; 40% added that their organizations don't understand the differences between millennials' needs and those of their older customers.
The survey included input from 82 U.S. telecommunications CEOs, two-thirds of whom reported $1 billion or more in annual sales.
For related articles, visit the Business Topic Center.
For more information on high-speed transmission systems and suppliers, visit the Lightwave Buyer's Guide.