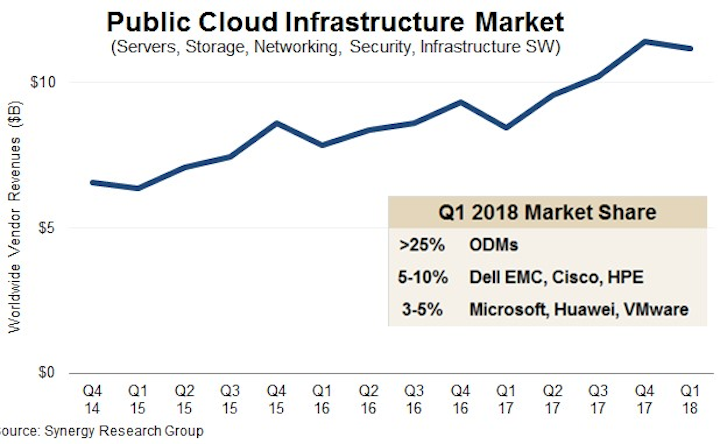 Spending on Public Cloud Infrastructure Continues to Surge in Q1
According to Synergy Research Group, public cloud provider spending on infrastructure hardware and software continues to grow, rising 32% from the first quarter of 2017 after an untraditionally strong start to 2018.
The market research firm says this is the highest growth figure observed in nine quarters, during which time year-on-year growth was usually in the 10% to 20% range. Although the first quarter usually experiences a dramatic drop after a strong fourth quarter, 2018 first quarter spending was only down 2% from the fourth quarter.
Combined, ODMs continue to dominate the market in vendor market share terms, presently accounting for nearly 30% of total revenues. ODMs are followed by Dell EMC, Cisco, and HPE, each of which has a 5% to 10% market share. Microsoft, Huawei, and VMware are the next highest ranked vendors in the first quarter, Synergy Research states.
In the third quarter of 2017, hardware, software, and other total public cloud infrastructure revenues exceeded the $10 billion per quarter milestone and are now well beyond $11 billion. Servers, OS, storage, networking, and virtualization software in aggregate were responsible for 95% of the first quarter public cloud infrastructure market, with the balance consisting of cloud security and cloud management. ODMs led server and storage hardware shipments by segment, with Dell EMC, HPE, and Cisco following behind, but not too closely. Despite Arista's continual growth, Microsoft and VMware are infrastructure software segment leaders.
"As we saw in our analysis of Q1 hyperscale capex, the hyperscale operators are on a spending spree and continue to crank up their investment in data centers, with much of this spending flowing through to the vendors of data center hardware and software," said John Dinsdale, a chief analyst and research director at Synergy Research Group. "Hyperscale operators totally dominate the cloud market, so their ongoing growth bodes well for hardware and software vendors – though ODMs continue to aggressively increase their share of the pie. Our forecasts show that IaaS, PaaS, SaaS, and public cloud workloads generally are all going to continue to grow rapidly over the next five years, which will continue to drive ever-increasing levels of spending on data center infrastructure."
For related articles, visit the Business Topic Center.
For more information on high-speed transmission systems and suppliers, visit the Lightwave Buyer's Guide.