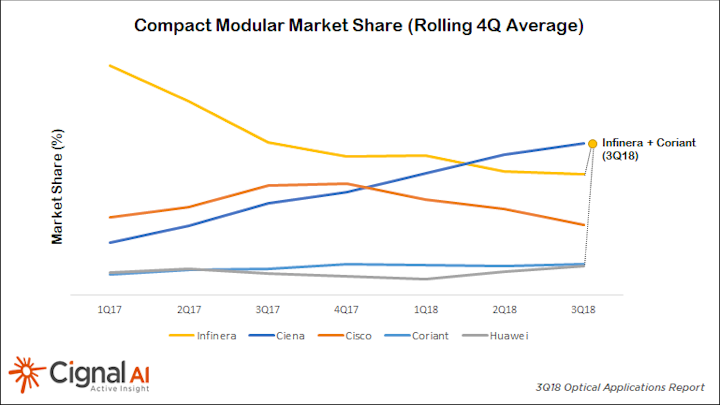 Financial analysts have expressed concern regarding Infinera's integration of its newly acquired Coriant assets (see "Infinera closes Coriant acquisition"). However, Cignal AI says in its new "Optical Applications Report" that the deal puts Infinera in position to threaten Ciena's hold on the compact modular data center interconnect (DCI) market share lead.
Cignal AI defines the compact modular DCI hardware space as comprising platforms designed specifically for DCI and related open disaggregated hardware applications. As the graph above shows, Infinera initially led the market through its first-to-market Cloud Express platform. However, Ciena has seen significant success with its Waveserver platform, and assumed the top market share position earlier this year. Cignal AI says the space could see more than a $1 billion in sales this year.
"Compact Modular equipment sales grew in all markets in the third quarter, and APAC was especially strong," said Scott Wilkinson, lead optical analyst for Cignal AI. "Ciena continues to lead the market, but the combined Infinera + Coriant may prove to be a challenging competitor if it can reestablish technical leadership at 400G."
Cignal AI says that 400G coherent transmission technology, particularly 400ZR, should see widespread introduction in the first half of next year. However, demand for lower speeds such as 200G should continue to grow, perhaps at the expense of 100G coherent optics. The increasing availability of pluggable CFP and CFP2-DCO modules for 200G should help boost this trend, says the market research firm.
While overall sales of optical network hardware in North America remained soft in the third quarter of 2018 (see "Asia up, North America down again in 3Q18 optical systems spending: Cignal AI"), the compact modular segment bucked this trend. The use of such platforms for applications other than DCI led these compact modular systems to account for more than a quarter of optical network hardware sales during the quarter.
Meanwhile, Cignal AI reports that packet-OTN systems sales increased 30% worldwide during the quarter. Strength in interest among incumbents in Asia and Europe offset weakness in the United States, Cignal AI analysts say.
The Cignal AI "Optical Applications Report" provides market share and forecasts for revenue and port shipments for 100G+ coherent optics and compact modular and advanced packet-OTN switching hardware. Deliverables include Excel files with complete data sets, PowerPoint summaries, and Cignal AI's "Active Insight" news reporting.
For related articles, visit the Business Topic Center.
For more information on high-speed transmission systems and suppliers, visit the Lightwave Buyer's Guide.