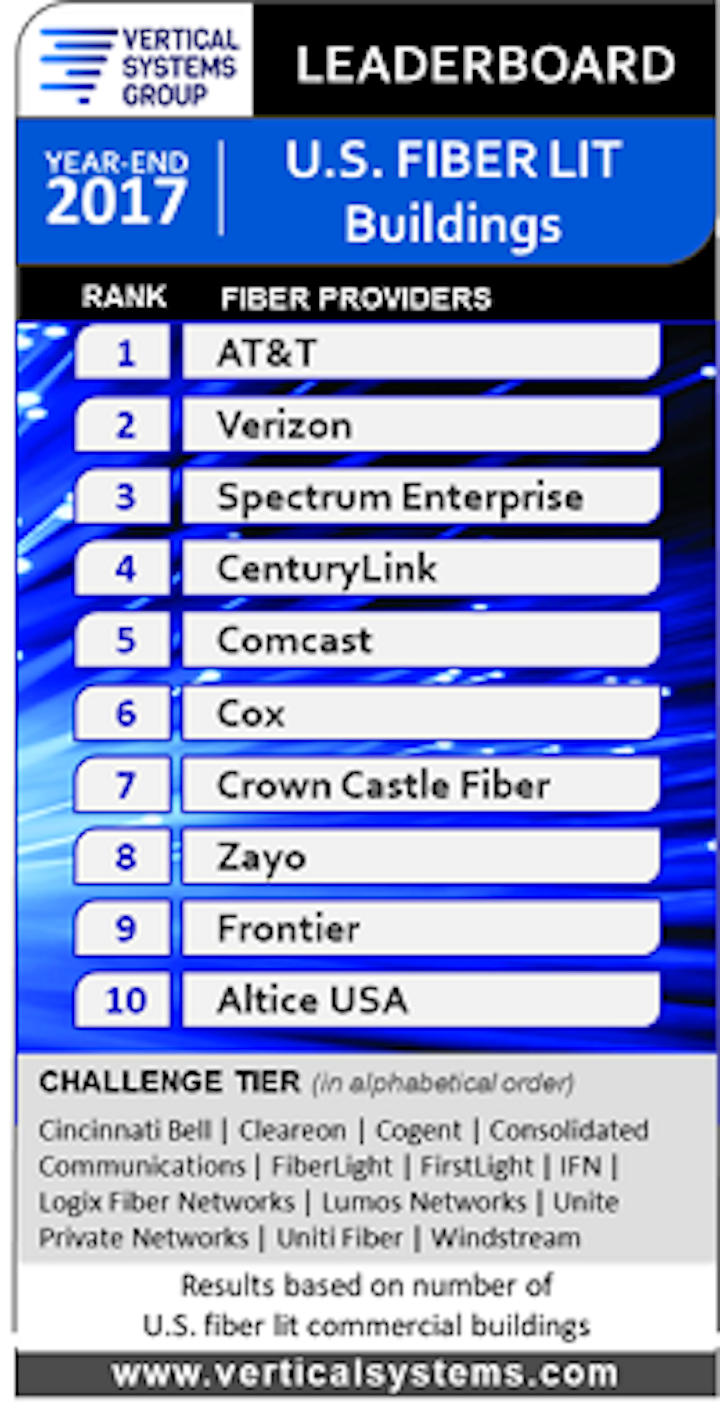 Vertical Systems Group (VSG) has released its 2017 U.S. Fiber Lit Buildings LEADERBOARD. And while there are some changes within the rankings thanks to merger activity, AT&T and Verizon maintained their positions at the top of the list.
As its name implies, the VSG LEADERBOARD ranks U.S. retail and wholesale fiber services providers by the number of fiber-lit buildings they serve. The 10 providers who made the list all connected to at least 10,000 buildings at the end of 2017. In fact, they were the only 10 providers to meet that criterion, according to VSG.
Acquisition activity over the past few years helped these companies either make the list or maintain their positions from the previous year (see "Vertical Systems Group: AT&T lands at the top of U.S. Fiber Lit Buildings Leaderboard"). Deals included:
In addition to the top 10 companies, VSG also tracks smaller players that it groups into either the Challenge Tier (between 2,000 and 9,999 U.S. fiber lit commercial buildings) and Market Players (less than 2,000 buildings connected). The former includes Cincinnati Bell, Cleareon, Cogent, Consolidated Communications, FiberLight, FirstLight, IFN, Logix Fiber Networks, Lumos Networks, Unite Private Networks, Uniti Fiber and Windstream. Several of these companies also were active in M&A in 2017. For example, Consolidated Communications acquired Fairpoint and Uniti Fiber acquired Southern Light.
"With fiber footprint expansion in the strategic plans of every major network service provider, we're seeing a significant ramp up in new lit building deployments," said Rosemary Cochran, principal of Vertical Systems Group. "Merger, acquisition and re-branding activity across the fiber provider landscape is so intense that it takes a scorecard to keep track. Nearly every one of this year's Fiber LEADERBOARD and Challenge Tier companies has been impacted by one or more fiber-related transactions in the past year."
Market Player companies includeAlpheus, Armstrong, Atlantic Broadband, Axia, Birch, C Spire, Centracom, Conterra, CTS Telecom, DQE Communications, EnTouch Business, Fatbeam, Fusion Telecom, Google Fiber, GTT, Hawaiian Telecom, Hudson Fiber Network, Hunter Communications, Independents Fiber Network, Infostructure, LS Networks, Mediacom, MetroNet, Monmouth Telecom, Orca Communications, Pilot Fiber, PS Lightwave, Shentel Business, Silver Star Telecom, Spirit Communications, Syringa, TDS Telecom, TPX Communications, U.S. Signal, Veracity, WOW!Business, and others.
VSG defines a "fiber lit building" as a commercial site or data center that has on-net fiber connectivity to a network provider's infrastructure as well as onsite active service termination equipment. Information for the LEADERBOARD comes from the market research firm's Fiber Lit Buildings analysis. The company offers metrics, fiber provider profiles, and analysis to its ENS Research Program subscribers of @Fiber Plus.
For related articles, visit the Business Topic Center.
For more information on high-speed transmission systems and suppliers, visit the Lightwave Buyer's Guide.