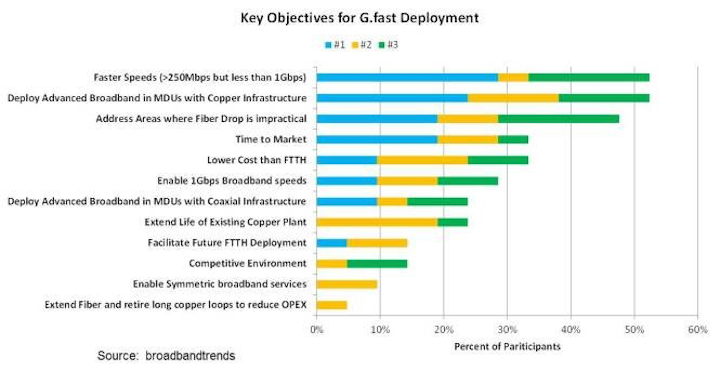 Faster Speeds in MDUs Key Objective for G.fast Deployment Confirms Global Survey
Broadbandtrends conducted a global service provider survey of broadband operators' plans to deploy G.fast technology within their network. Of the "Global Service Provider Survey: 2018 G.fast Deployment Strategies and Vendor Leadership" participants, 80% plan to deploy G.fast by the end of 2018, with 27% currently in live deployments.
G.fast and other broadband copper technologies advances continue to extend the life of the copper plant by delivering speeds that will support developing high-bandwidth applications. As was the case in Broadbandtrends "4th Annual Global Operators Survey on Ultra-Broadband Copper Deployment Strategies," time to market and extending the existing copper plant life remain catalysts for G.fast deployments (see "Competition main driver for G.fast deployment: Broadbandtrends").
While G.fast enables operators to address both the competitive environment and time to market demands with aggregate speeds of up to 2 Gbps, they are primarily interested in G.fast deployment to provide faster speeds (greater than 250 Mbps), according to the survey. Operators plan to remain tactical in their deployment over the next two years, focusing primarily on deployment of MDUs with copper infrastructure.
Operators name cost as the most important concern in deploying G.fast technology, says the market research firm. The need to deploy fiber further into the network as G.fast requires shorter loops than VDSL2 vectoring, the possible need for external power depending on DPU location, and new CPE are among the cost concern factors. Since the distribution point will potentially serve less customers than ADSL or VDSL2 vectoring, the cost per subscriber can possibly be higher as well. 100% of survey participants cited fiber to the building (FTTB) with the DPU in the basement as a top use case.
Support for 1-Gbps aggregate speeds (upstream and downstream), extended bandwidth at 212 MHz, and dynamic timeslot assignmentwere regarded as the most important emerging and available G.fast capabilities to operators. The survey also indicates that 9 to 16 line DPUs continue to be optimal. Additionally, average downstream speeds of 500 to 1 Gbps are expected with most G.fast service.
Broadbandtrends' "Global Service Provider G.fast Deployment Strategies" survey, which comprised interviews with 33 incumbent and competitive operators in all major regions regarding their G.fast plans and deployment strategies, provides a global overview of the results of the survey, as well as commentary on notable regional differences found in the results.
Vendors evaluated included ADTRAN, Calix, DASANZhone, Huawei, Iskratel, KEYMILE, Nokia, ZTE, and ZyXEL. The 33-page report contains 23 figures and three tables, and is available for purchase for $2495.
For related articles, visit the Business Topic Center.
For more information on high-speed transmission systems and suppliers, visit the Lightwave Buyer's Guide.