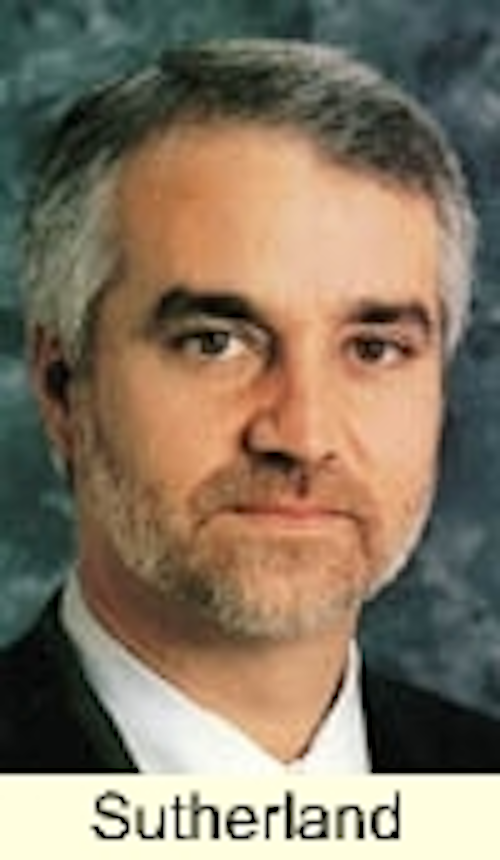 Charles Roxlo has been appointed the director of product technology at Novalux Inc., where he will be responsible for the strategic development of laser technology and products that will enable a broad range of new customer applications. Prior to joining Novalux, Roxlo was director of advanced technology in Lucent Technologies' Optical Networking Group, where he was responsible for technology strategy and forward-looking work in WDM systems.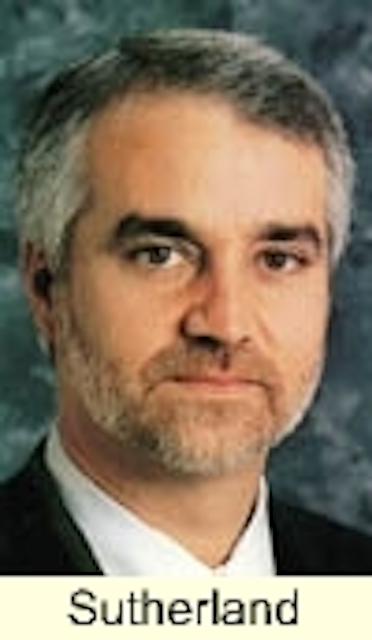 Sutherland
Randall P. Sutherland has joined OMM Inc. as director of public relations. A 17-year industry veteran, Suther land will lead corporate communications for the company. Prior to joining OMM, Sutherland worked as senior manager of industry-analyst relations at Cisco Systems Inc.
Geyser Networks Inc. has named Kent Novak vice president of marketing and Thomas Walsh vice president of sales. Novak was formerly employed at Alcatel, where he was vice president of marketing for the optical networking and transmission business in North America. While in that position, he was responsible for sales support, business development, product promotion, and definition of market requirements. Walsh brings to Geyser more than 15 years of experience in senior sales, business development, and marketing positions at companies such as Lucent Technologies, AT&T, and NCR.
Calient Networks has appointed Greg Partalis vice president of sales and Terry Gibson CFO. Partalis will oversee Calient's sales force, drawing on more than 25 years of experience in domestic and international sales. He comes to Calient from Nortel Networks' Enterprise Solutions, where he was a North American vice president of sales. Gibson was formerly CFO and vice president of finance at Ramp Networks Inc., where he led the company to a successful IPO.
ITF Optical Technologies announces the appointment of Michael Unger to their board of directors. Unger comes to ITF from Nortel Networks, where he has worked since 1962. He was most recently president of Nortel's Optical Networks Business Unit.
David M. Hickey has been elected chairman of Applied Micro Circuits Corp.'s (AMCC) board of directors. He has served on the board since 1996 and will retain his title of president and CEO. Rickey has been instrumental in refocusing AMCC toward serving the communications industry with high-speed silicon solutions and has led the company through a successful IPO, numerous acquisitions, and an agreement to merge with MMC Networks.
Roger J. Heinz has been named vice president, western region sales, of Astral Point Communications. He will be responsible for the sales, support, and integration of the company's ON 5000 Optical Service Node into current and future optical networks of West-Coast-based incumbent-, competitive-, and business-local-exchange carriers, wireless providers, and metropolitan area broadband-service providers. Heinz joins Astral Point from Lucent Technologies Inc., where he was senior vice president, responsible for selling Lucent products to Sprint.
Sygate Technologies Inc. (formerly Sybergen Networks Inc.) has appointed John De Santis president and CEO. The company's founder, Chris Guo, will assume the position of CFO. De Santis will be responsible for charting the company's strategic direction and promoting the development of innovative software technology that provides secure connectivity for the mobile enterprise. He was formerly senior vice president, sales and marketing, for Network Computing Devices, where he was responsible for all worldwide sales, marketing, and service operations. Guo will focus on technology and product development.
Antec Corp. has announced Bryant K. Isaacs as president of the Network Technologies product offerings. Founder and former general manager of Lucent Technologies Wireless Communications Networking Division, he was responsible for the definition, development, and market introduction of wireless Internet-access products.
Rich Bakosh has joined Corvis Corp. as senior vice president of global sales, where he will be responsible for leading the development of all sales opportunities for the company. Bakosh was formerly vice president of sales for Tellabs, where he led a team responsible for more than $1 billion in revenue.
Arroyo Optics has named Robert M. Graham president and CEO. Graham comes to Arroyo Optics from Nortel Networks, where he was vice president, major accounts division. In this role, he was general manager of a division totaling more than 1,000 employees with more than $1 billion in annual revenue responsibility.
ZettaCom has appointed Jerry Fishman, president and CEO of Analog Devices, to their board of directors. Fishman has been with Analog Devices since 1972 and will assist ZettaCom in becoming a provider of silicon solutions for the Internet infrastructure.
Graybar Electric has appointed Charles R. Udell as senior vice president, electrical business; Michael W. Fowler as vice president, corporate accounts and integrated supply; and Robert C. Lyons as district vice president in Tampa. Udell will be responsible for overseeing the company's 13 electrical districts and directing the activities of the corporate headquarters Electrical Business Group. He was promoted from his position of vice president, construction markets, a position he held in the company since 1993. Fowler has been with the company since 1974, most recently serving as district vice president at Tampa. Lyons has been with the company since 1979, most recently as director, construction markets, at corporate headquarters.
Edward R. Wilson has been appointed director of sales, North America, at ExceLight Communications Inc. (formerly the electro-optics products group of Sumitomo Electric Lightwave). Wilson will be responsible for leading the team of regional sales managers located throughout North America as well as directing inside sales and customer service for the company. Before joining Sumitomo, Wilson held positions with United Technologies, Marshall Industries, and NEC/CEL.
Bookham Technology has named Andy Quinn president of its North America operations. He will be responsible for leading the company's continued expansion in the US marketplace and expanding and operating the company's technical and engineering operations in North America. Formerly a director in optoelectronics at Lucent Technologies, Quinn was responsible for establishing in-house manufacturing for new technology and recruitment and working with sales and marketing teams to target key markets.
David A. Woodle, president and CEO of C-COR.net, has been appointed chairman of the company's board of directors. Under Woodle's leadership, the company has launched a new corporate strategy to tap into the growing demand from broadband cable operators to upgrade and rebuild existing networks to offer high-speed, two-way services such as Internet, telephony, video-on-demand, and digital television. Woodle has been a member of the board since 1998.
Yipes Communications Inc. has named co-founder Dr. Kamran Sistanizadeh CTO and Robert D. Valdez CFO. Sistanizadeh will be responsible for network architecture, deployment and activation, and industry standards. He most recently served as CTO at Bell Atlantic Global Networks. Valdez will oversee the raising of new capital for the company's record network expansion and its corporate development activity. He was formerly managing director and global head of mergers and acquisitions at SC Cowen Securities Corp.