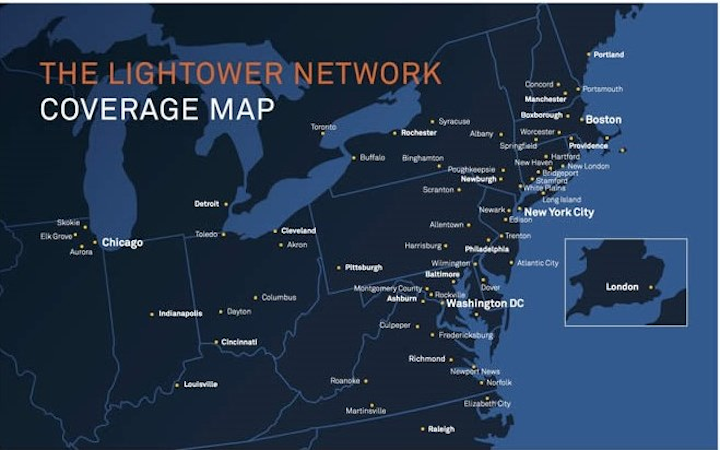 Fiber-optic network services provider Lightower Fiber Networks announced last week that it has closed its $1.9 billion merger with Fibertech Networks. The merged company, which will retain the Lightower name, roughly doubles it addressable market in the Northeast, Mid-Atlantic, and Midwest regions of the U.S. via the merger.

The two companies unveiled the deal last April (see "Lightower Fiber Networks, Fibertech Networks seek merger"). The new Lightower boasts more than 30,000 route miles of fiber and access to more than 15,000 service locations, including more than 250 data centers, more than 500 telco hotels and central offices, 40 financial exchanges, and more than 5,000 wireless towers (see map above.

"Lightower is now the leading all-fiber provider from Illinois, to Massachusetts, to North Carolina, covering an area of the country with over 40% of the U.S. population," asserted Rob Shanahan, President and CEO of Lightower. "This merger accelerates Lightower's ongoing expansion strategy and positions us as the premier solution provider in 6 of the nation's top 11 metro markets."

The transaction was funded through a combination of equity and debt. Lightower's existing financial backers, Berkshire Partners, Pamlico Capital, and ABRY Partners, each provided additional equity to support the transaction.

For more information on high-speed transmission systems and suppliers, visit the Lightwave Buyers' Guide.