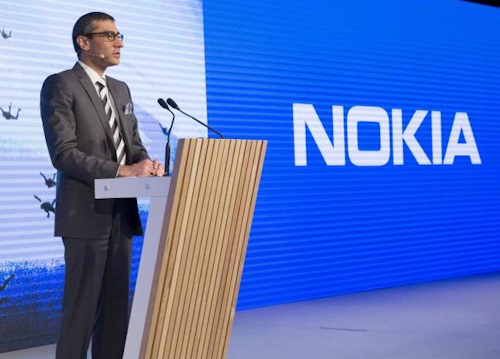 Well, that didn't take long. A day after admitting they were in acquisition talks, Nokia (NYSE:NOK) and Alcatel-Lucent (Euronext Paris and NYSE:ALU) have announced they have reached a deal for Nokia to purchase its French competitor in an all-stock transaction worth €15.6 billion ($16.7 billion). The companies hope to close the deal in the first half of next year.

Nokia will issue new shares of stock to consummate the transaction. Alcatel-Lucent shareholders will receive 0.55 shares of Nokia for every Alcatel-Lucent share they hold. The Alcatel-Lucent shareholders will end up owning 35.5% of the combined company, which will bear the Nokia name.

Risto Siilasmaa will remain chairman of the combined company's board, which will have three members from Alcatel-Lucent. Similarly, Rajeev Suri will retain his present position as Nokia's president and CEO. Alcatel-Lucent CEO Michel Combes joked on an analyst call this morning that he will become "a demanding shareholder."

Suri told analysts on the call that the combined company will be the second largest supplier of technology to communications carriers worldwide. The two parts of the new Nokia combined for total revenues in 2014 of €25.9 billion ($27.6 billion), a market cap of greater than €45 billion ($48 billion), and €7.4 billion in cash ($7.9 billion).

And, of course, there will be synergies that will lead to savings. Suri says executives of the two firms have identified €900 million ($961 million) in annual cost savings that can be achieved starting in 2019, as well as a reduction in interest expense of approximately €200 million ($213.5 million) annually beginning in 2017, mainly from debt reduction.

Meanwhile, the company also will seek divestiture opportunities as part of the integration process. Simultaneously with the proposed transaction's announcement, Nokia revealed that it is investigating strategic alternatives for its HERE navigation, mapping, and location intelligence business. Meanwhile, Reuters reports that Flextronics International Ltd. is already in talks to acquire the manufacturing unit of Alcatel-Lucent Shanghai Bell, a joint venture with Chinese partners, that would be redundant with Nokia's presence in the country.

Hurdles remain

Completion of the transaction is contingent upon a number of conditions. These include getting the approval of the French government. To achieve this aim, Nokia has pledged to make France a multifaceted "center of excellence," particularly in 5G, that will see the combined company retain all of the R&D engineers Alcatel-Lucent planned to employ at the end of this year in accordance with its Shift Plan. (Nokia's FutureWorks R&D arm will fold into Bell Labs, Suri said.) In addition, the company will set up a €100 million investment fund aimed at promoting French startups working in areas pertaining to the Internet of Things and the industrial Internet.

Combes said during this morning's that call he had informally discussed the acquisition with "the three main carriers in the U.S.," all of whom he said support the deal. Suri reported similar statements of approval from major European wireless carriers.

Assuming receipt of the necessary corporate and regulatory approvals, Nokia would commence its share offering, a milestone it expects to achieve early next year. The new Nokia will then face an enormous integration task. Suri asserted that "both companies have significant experience at successfully integrating companies." Nevertheless, he more than once referred to the fact that executives from both companies had learned from mistakes encountered in their respective histories – Nokia with its merger with Siemens, and the combination of Alcatel and Lucent Technologies that created Alcatel-Lucent. Execution problems with the latter merger, Combes admitted, had put the company "on the brink of bankruptcy" when he arrived in February 2013 (see "Michel Combes new Alcatel-Lucent CEO").

For more information on high-speed transmission systems and suppliers, visit the Lightwave Buyer's Guide.