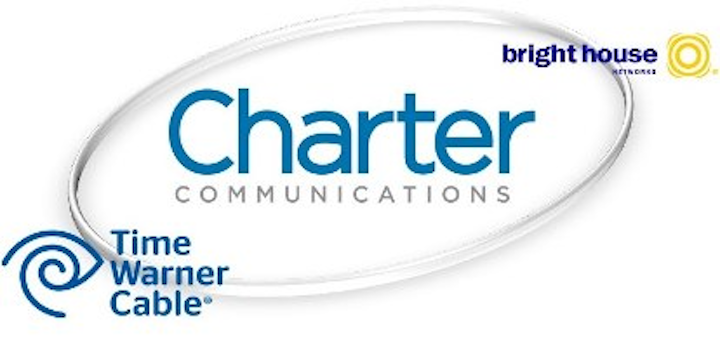 Undaunted by Comcast's experience with attempting a large-scale merger in the U.S. cable operators space, Charter Communications, Inc. (NASDAQ: CHTR) has decided to double down by acquiring both Time Warner Cable Inc. (NYSE: TWC) and Bright House Networks.

Charter announced today an agreement to acquire TWC for $78.7 billion. Charter will provide $100.00 in cash and shares of a new public parent company (currently named, you guessed it, "New Charter") equivalent to 0.5409 shares of the current Charter for each outstanding TWC share. This is equivalent to $195.71 per TWC share based on Charter's market closing price on May 20. Charter also will provide an election option for each TWC stockholder, other than Liberty Broadband Corp. or Liberty Interactive Corp. (who will each get stock), to receive $115.00 of cash and New Charter shares equivalent to 0.4562 shares of the present Charter for each TWC share they own.

Meanwhile, Charter says it has agreed with Bright House Networks' parent, Advance/Newhouse Partnership, to change their previous purchase agreement of that cable operator (see "Charter to buy Bright House Networks" and "Charter, Bright House still walking down the merger aisle"). Now, Charter and Advance/Newhouse will form a new partnership under which New Charter will acquire Bright House Networks for cash and stock in New Charter. New Charter will own approximately 86% to 87% and Advance/Newhouse 13% to 14% of the partnership, depending on how many TWC shareholders' take the cash election option. Advance/Newhouse will receive $5.9 billion of exchangeable common partnership units and $2.5 billion of convertible preferred partnership units which will pay a 6% coupon in the partnership as well as $2 billion in cash. The common and convertible preferred partnership units will each be exchangeable into shares of New Charter.

But that's not all. Liberty Broadband has agreed to purchase, upon closing of the TWC portion of the deal, $4.3 billion of newly issued shares of New Charter at a price equivalent to $176.95 per Charter share (Charter's closing price on May 20, 2015). Liberty Broadband already has agreed to purchase, upon closing of the Bright House Networks buy, $700 million of newly issued Charter shares at a price equivalent to $173.00 per Charter share.

Current Charter President and CEO Tom Rutledge would retain those titles with New Charter should the deals go through. New Charter's board of directors is expected to comprise 13 directors, including Rutledge as chairman. The remaining 12 directors will include seven independent directors nominated by the independent directors serving on Charter's board, two directors designated by Advance/Newhouse, and three directors designated by Liberty Broadband. Charter's current chairman since 2009, Eric Zinterhofer, will continue to serve on New Charter's board.

Charter says both acquisitions should close by the end of the year. However, given how long scrutiny of the Comcast/TWC deal lasted, that may be optimistic. Federal Communications Commission Chairman Thomas Wheeler has already promised to give the deals a thorough review.

"The FCC reviews every merger on its merits and determines whether it would be in the public interest. In applying the public interest test, an absence of harm is not sufficient. The Commission will look to see how American consumers would benefit if the deal were to be approved," Chairman Wheeler said in a statement issued this morning.

While New Charter would not be as large as the Comcast/TWC pairing would have been, it would still be a very large company. The entity would serve 23.9 million customers in 41 states. TWC is the second largest cable operator by video subscribers; Charter is third and Bright House Networks is sixth, according to Charter. New Charter would not overtake Comcast for the market share lead, but would narrow the cable giant's advantage significantly.

However, it may be the impact on broadband competition that receives the most regulatory scrutiny. The potential damage to such competition reportedly was one reason the proposed Comcast/TWC received such harsh regulatory treatment.
The proposed deal received a thumbs up from at least one interested party. "This deal makes all the sense in the world. I would like to congratulate all the parties," said Comcast Chairman and CEO Brian L. Roberts in a statement issued this morning.

Just as Comcast originally beat Charter for a chance at buying TWC (see "Time Warner Cable agrees to merge with Comcast"), it appears Charter this time has bested its closest competitor, Europe's Altice SA (see "Altice to buy Suddenlink; eyes TWC?").

For more information on broadband access equipment and suppliers, visit the Lightwave Buyer's Guide.