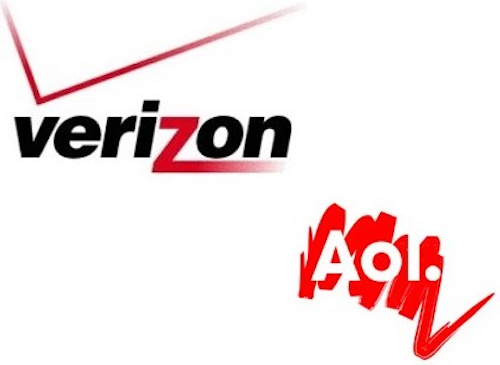 Verizon Communications Inc. (NYSE, NASDAQ: VZ) says it has agreed to buy Internet content pioneer AOL Inc. (NYSE: AOL) for approximately $4.4 billion. The deal will strengthen Verizon's content play in LTE wireless video and over the top (OTT), as well as aide its Internet of Things (IoT) strategy, the company believes.

AOL shareholders will be offered $50 per share, which Verizon expects to fund via cash on hand and short-term debt in the form of commercial paper. While that would have been a premium based on AOL's closing share price yesterday of $42.59, the company's shares were trading at $50.42 at around 10:20 AM EDT this morning.

After beginning life as one of, if not the leading entry platforms for early users of the Internet, then stumbling over the merger with Time Warner (the two parties divorced in 2009), AOL has settled into a successful provider of content and advertising platforms. Its brands include The Huffington Post, TechCrunch, Engadget, and the women-focused video site MAKERS. Verizon is a supporter of the MAKERS site. AOL also produces OTT video content delivered via AOL.com.

The company reported May 8 that revenues for its fiscal first quarter reached $625.1 million, up 7% versus 1Q14. However, the company also revealed that subscriber numbers and desktop display impressions had declined year-over-year. For fiscal 2014, AOL reported revenues of $2.53 billion, up 9% over full-year 2013.

In a press statement, Lowell McAdam, Verizon chairman and CEO, described the pending acquisition of AOL as complementary to his company's drive to create a global multiscreen network platform.

"AOL has once again become a digital trailblazer, and we are excited at the prospect of charting a new course together in the digitally connected world," McAdam said. "At Verizon, we've been strategically investing in emerging technology, including Verizon Digital Media Services and OTT, that taps into the market shift to digital content and advertising. AOL's advertising model aligns with this approach, and the advertising platform provides a key tool for us to develop future revenue streams."
IBISWorld analyst Sarah Kahn likes the deal for Verizon. Citing what she calls "ferocious" price competition among wireless service providers, Kahn sees players such as Verizon looking to expand into other mobile-related services and revenue streams, including mobile video and advertising.
"AOL's Platforms segment is already well positioned to address cross-screen digital media advertising trends. The company offers a range of advertising technology products and services to advertisers, publishers, and other technology companies individually or on a bundled basis," Kahn wrote in a research note issued this morning. "Its premium video platform includes the content, technology platforms, and distribution channels for advertisers and publishers to access video advertisements at scale.
"Ultimately, the purchase will help Verizon—which owns about a third of the wireless market—to expand its mobile-video offerings, retain customers, and attract new ones from its competitors," Kahn added.
Verizon hopes to close the deal this summer. Assuming the successful acquisition of the usual regulatory approvals, the transaction will take the form of a tender offer followed by a merger. AOL would become a wholly owned subsidiary of Verizon and would be led by current AOL chairman and CEO Tim Armstrong.

For more information on high-speed transmission systems and suppliers, visit the Lightwave Buyer's Guide.