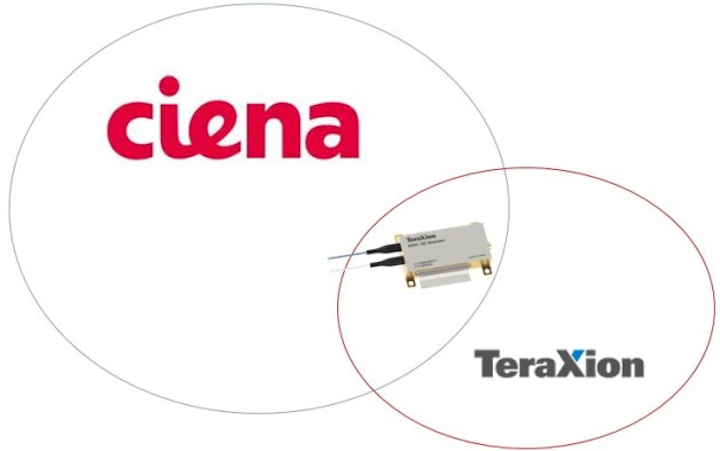 Ciena Corp. (NYSE:CIEN) and privately held TeraXion say they have reached an agreement through which Ciena will acquire the Canadian company's High-Speed Photonics Components (HSPC) assets. Ciena will pay roughly CAN$46.6 million (US$32 million) for the assets, which cover indium phosphide and silicon photonics technologies as well as underlying intellectual property (IP).

Ciena described the technologies and IP involved as "key enablers of Ciena's industry-leading WaveLogic coherent optical chipsets."

Ciena, while headquartered in Maryland, has a significant presence in Ottawa. The TeraXion group will remain in Quebec City as part of Ciena's Packet Optical Platforms organization, under the leadership of current TeraXion CTO Martin Guy, while bolstering Ciena's R&D activities in Ottawa. Ian Woods, TeraXion's current HSPC Business Unit leader, is also among the employees who will move to Ciena.

TeraXion first made its mark in the fiber-optic network market with its tunable dispersion compensators (see, for example, "Teraxion intros wavelength-tunable dispersion compensator"). A few years ago, the company branched out into coherent receivers and modulators, an effort boosted when the company purchased modulator assets from COGO Optronics in 2013 (see "Teraxion acquires modulator expertise from COGO Optronics"). This work culminated with the development of an InP modulator for 400-Gbps applications (see "TeraXion sampling 400-Gbps InP modulator"). TeraXion also began to develop silicon photonics expertise; the company delivered a paper at ECOC 2015 about its efforts to develop a silicon photonics enabled PAM4 modulator (see "ECOC 2015 Reporter's Notebook: Day 1").
Ciena isn't saying whether they have plans for these modules. "We're not getting into the specifics of how we'll use the assets we're buying," wrote Nicole Anderson, senior director, corporate communications at Ciena, in response to a Lightwave email query. "Simple story is that this is a strategic acquisition designed to give us greater control of a technology set that complements our WaveLogic chipset. It will help enhance the flexibility we have with respect to modulation format capabilities to continue demonstrating leading price performance across a full range of applications from DCI [data center interconnect] to trans-pacific submarine links."

Meanwhile, TeraXion President and CEO Alain-Jacques Simard confirmed in an email that the HSPC asset sale basically returns the company to its roots in dispersion compensation and various filter technologies when it comes to the optical communications market. The company also will remain active in fiber lasers and optical sensing applications.

For more information on optical subsystems and suppliers, visit the Lightwave Buyer's Guide.