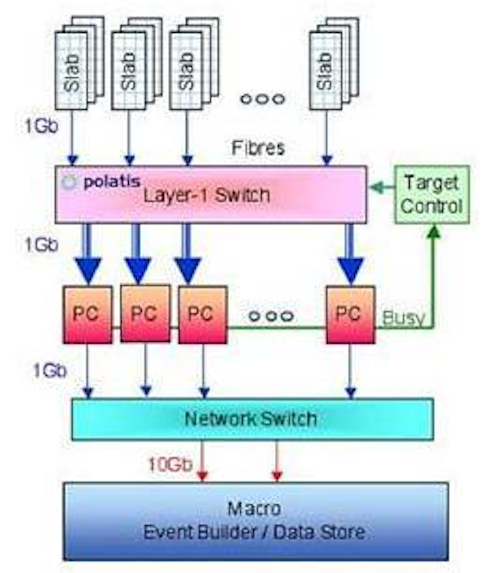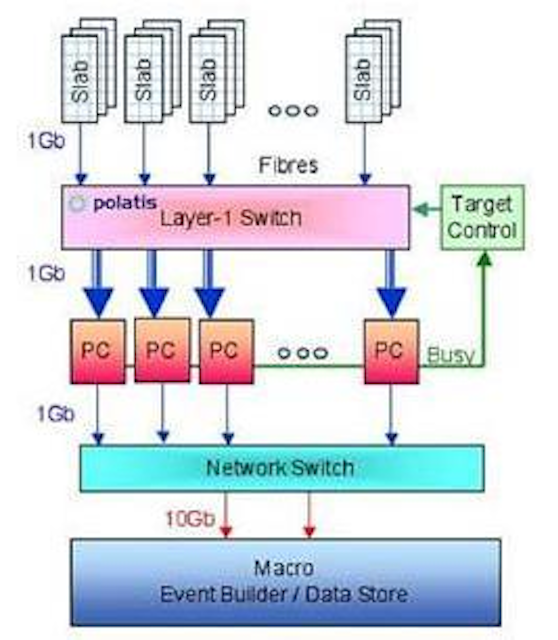 OCTOBER 30, 2007 -- The particle physics group at the University College London has chosen a Polatis (search for Polatis) all-optical switch for a data acquisition system test bed.
The target application is data collection from a detector at the International Linear Collider, which is currently in development. The group is investigating fast network approaches in order to aggregate data, reducing hardware requirement and thus saving money.
As shown in the diagram above, the optical switch lies at the interface between the raw data delivery from the detector slabs and a PC farm, which performs initial data processing.
The task of the switch is to do routing and dispatching in case of failure of any of the PCs. The fast switching time of the Polatis switch, i.e. less than 20 msec, is consistent with the interval between two data bursts, so-called bunch trains, of about 200 msec. Consequently, no more than one data burst is lost in any rerouting event. In addition, an all-optical approach is required because the underlying protocol has to be customized for the data acquisition system. The Polatis says its optical switch was particularly appealing for the UCL application because it enables reduction in the cost of the adjacent fibers and PCI cards with the PCs.
Polatis adds that once the International Linear Collider begins operation it will be able to give a much more precise picture of elementary particle physics than the Large Hadron Collider, which will start to produce data towards the end of this year at CERN in Geneva. Physicists will be able to look into the properties of known elementary particles like the top quark, make new discoveries and confirm findings, or identify signals obtained from earlier work at the Large Hadron Collider.
Visit Polatis