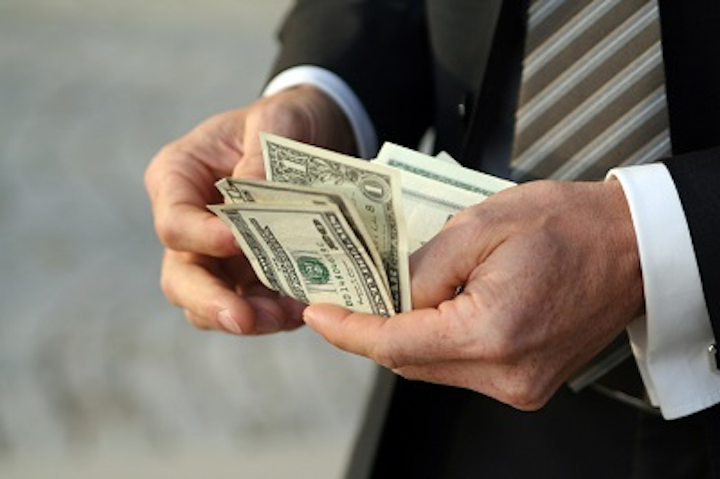 Broadcom Ltd. (NASDAQ: AVGO) has made an unsolicited offer to acquire fellow communications semiconductor vendor Qualcomm Inc. (NASDAQ: QCOM). The offer of $70 per share in cash and stock equates to a total purchase price of $130 billion, including $25 billion of net debt.
Qualcomm is in the midst of its own proposed acquisition, a deal to buy NXP Semiconductor for $38 billion. Broadcom estimates that a combination with Qualcomm, including NXP, would create a company with pro forma fiscal 2017 revenues of approximately $51 billion and pro forma 2017 EBITDA of approximately $23 billion, including synergies. Broadcom sees Qualcomm's semiconductor portfolio for cellular applications as complementary to the products it currently makes. The deal is not contingent on Qualcomm completing the NXP transaction, Broadcom says.
The offer breaks down to $60 in cash and $10 in Broadcom shares for each Qualcomm share. The $70 per share total proposal equates to a 28% premium over the closing price of Qualcomm common stock on November 2, 2017, and a premium of 33% to Qualcomm's unaffected 30-day volume-weighted average price, Broadcom says. The company also says it has lined up the necessary deal financing. Broadcom says that BofA Merrill Lynch, Citi, Deutsche Bank, J.P. Morgan, and Morgan Stanley have stated in writing that they are "highly confident" that they can arrange the necessary debt financing. Silver Lake Partners, meanwhile, has signed a commitment letter for a $5 billion convertible debt financing for the transaction.
"Broadcom's proposal is compelling for stockholders and stakeholders in both companies. Our proposal provides Qualcomm stockholders with a substantial and immediate premium in cash for their shares, as well as the opportunity to participate in the upside potential of the combined company," said Hock Tan, Broadcom's president and CEO. "This complementary transaction will position the combined company as a global communications leader with an impressive portfolio of technologies and products. We would not make this offer if we were not confident that our common global customers would embrace the proposed combination. With greater scale and broader product diversification, the combined company will be positioned to deliver more advanced semiconductor solutions for our global customers and drive enhanced stockholder value."
Qualcomm management has acknowledged receipt of the offer. "The Qualcomm Board of Directors, in consultation with its financial and legal advisors, will assess the proposal in order to pursue the course of action that is in the best interests of Qualcomm shareholders. Qualcomm will have no further comment until its Board of Directors has completed its review," the company said via a press statement.
However, the statement further implied that Qualcomm management would be happy to maintain the status quo. "Qualcomm's Board and management have continued to execute on its strategy to position the company for the next phase of profitable growth by making focused investments to extend its leadership in mobile into new opportunities, while maintaining financial discipline and a robust capital return program. Qualcomm has significant opportunities to drive substantial additional value for its shareholders as its technology and product roadmap move into new industries," the statement concluded.
Broadcom has been very active in the mergers and acquisitions front over the past several years. For example, the company is in the process of acquiring Brocade, and while that deal has not yet closed, it has already begun finding homes for the pieces of Brocade it doesn't want (see, for example, "Broadcom to sell Brocade Data Center Networking Business to Extreme Networks"). Broadcom itself was acquired by Avago Technologies for $37 billion in early 2016 (see "Avago to buy Broadcom").
For related articles, visit the Business Topic Center.
For more information on communications semiconductors and suppliers, visit the Lightwave Buyer's Guide.