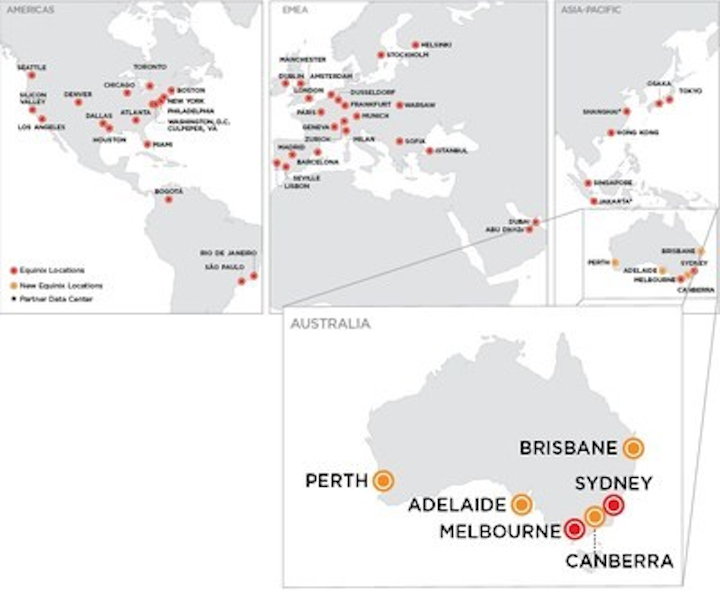 Equinix, Inc. (Nasdaq: EQIX) said it has reached an agreement with Ontario Teachers' Pension Plan to acquire all of the equity interests in the Metronode group of companies in an all-cash transaction for Australian $1.035 billion, or about U.S. $792 million. The acquisition agreement was signed on December 15, and the company expects the deal to close in the first half of next year, subject to regulatory approval and closing conditions.
According to Equinix, the acquisition will expand its national footprint with the addition of 10 data centers, increasing its Australian International Business Exchange (IBX) data center footprint to a total of 15 data centers as a result. The acquisition will add two data centers in Melbourne, three in greater Sydney (including one Illawarra data center), two in Perth, and one data center in Canberra, Adelaide, and Brisbane each. Approximately 20,000 square meters of gross colocation space will be added to the Equinix footprint with the acquisition of the Metronode sites. Additionally, Equinix says it will provide diverse second campuses that are hyperscale ready in its existing Sydney and Melbourne metros as a result of the acquisition.
The Metronode acquisition will add more than 80,000 square meters of land, with 90% of the land owned, to the Equinix global footprint. The acquisition will enable Equinix to extend its Asia-Pacific footprint to 40 data centers, and its worldwide footprint to 200 data centers in 52 markets to offer customers secure deployment, direct connectivity, and digital infrastructure scaling with Platform Equinix, says the company.
Australian data center provider Metronode announced recently that its Shenton Park facility has been chosen as the landing station for the new Vocus Australia Singapore submarine cable (see "Metronode data center chosen to land submarine cable connecting Singapore to Perth"). Equinix says this combination with the existing submarine cable deployments in Sydney will position it as a major provider of intercontinental connectivity access throughout the combined national footprint.
Metronode generated about U.S. $46 million of revenues in the 12 months ending September 30, 2017, launched a $150 million construction program this year, and is in the final negotiation stages of expanding the Shenton Park facilities with the addition of adjacent land at the site.
The growing Australian footprint of Equinix will build on Metronode's relationships with government agencies across the Australian market, including the New South Wales Government, by delivering capacity in two data centers for the GovDC program.
"As well as expanding our national footprint with Metronode's existing sites, this acquisition also enables us to build out sites that are currently in development to further expand our presence in Australia," said Jeremy Deutsch, Equinix Australia managing director. "This will enable us to continue to deliver the level of excellence and interconnection that our customers expect, and signifies our commitment to the region in supporting the growth of digital businesses. We look forward to welcoming the Metronode team into the Equinix family."
The expansion news follows the Equinix announcement earlier this month that it plans to expand its Equinix Internet Exchange into nine new metros in EMEA and the United States (see "Equinix expands its internet exchange into nine EMEA, U.S. metro markets").
For related articles, visit the Data Center Topic Center.
For more information on high-speed transmission systems and suppliers, visit the Lightwave Buyer's Guide.