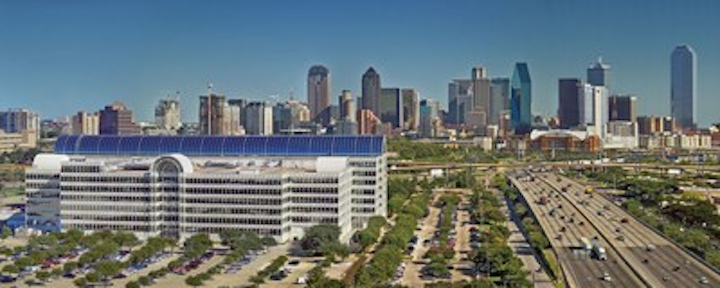 Equinix will acquire the Infomart Dallas hub in a $800 million transaction.
Equinix, Inc. (NASDAQ: EQIX) said that it has entered into a definitive agreement to acquire U.S. interconnection hub Infomart Dallas from ASB Real Estate Investments. The $800 million debt and cash transaction includes the Infomart Dallas operations and tenants.
Financial terms of the deal include cash consideration of $31 million combined with $750 million in senior unsecured notes issued to ASB at various maturities over 36 months after the closing date. The notes will be valued at around $769 million when adjusted toreflect the trading value of Equinix's currently outstanding bonds, the company says.
Equinix plans for the transaction to close in mid-2018, subject to customary closing conditions.
The 1.6 million gross-square-foot Infomart includes several diverse fiber entry points, and is currently home to Equinix Dallas International Business Exchange (IBX) data centers DA1, DA2, DA3, and DA6. The number of Equinix owned assets will grow by four with the deal, increasing recurring revenue from owned assets to over 45% as a result of the acquisition. The acquisition will also position Equinix to expand in the Dallas metro market, which it attests is one of the largest American colocation and enterprise markets.
In 2017 the Infomart building generated approximately $50 million of revenues, and almost $20 million of that was from Equinix rent and maintenance recoveries. According to Equinix, the Infomart gives it expansion opportunities through the current underdeveloped capacity (approximately 11 MW of power), along with the potential to develop additional capacity (approximately 40 MW of power) on land adjacent to the Infomart building.
At the present, Infomart Dallas has roughly 45 tenants, including networks, colocation providers, office tenants, and Equinix. Accounting for nearly 40% of the lease revenues from the facilities, Equinix is the largest Infomart tenant. Equinix says that nearly 50 Infomart employees and contractors, mainly in operations positions at the acquired facility, will be contracted or employed by Equinix as part of the transaction.
"As Dallas becomes an increasingly strategic North American interconnection hub for businesses making the shift to digital, the acquisition of the Infomart will enable existing and new customers to scale their operations with Equinix," said Karl Strohmeyer, Equinix president, Americas. "This includes a rich portfolio of interconnection options, including on-demand connections to partners and infrastructure in any Equinix location globally through the new capabilities of Equinix Cloud Exchange Fabric."
For related articles, visit the Business Topic Center.
For more information on fiber-optic cable and suppliers, visit the Lightwave Buyer's Guide.