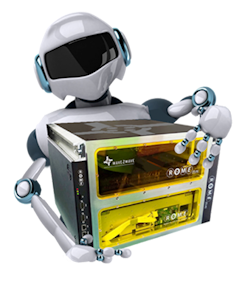 Wave2Wave Solution has expanded its line of ROME fiber switches with the ROME Mini. As its name implies, the ROME Mini is a small form factor robotic fiber switch for automated fiber connectivity in edge data centers and fiber access networks.
At 19 inches, the ROME Mini is rack mountable for installation in data centers, submarine cable landing stations, mobile backhaul facilities, or where limited space under the floor makes footprint an issue. The fiber switch supports more than 200 fibers and retains the software-defined networking (SDN) operational capability of larger ROME systems (see, for example, "Wave2Wave offers ROME MAX, ROME MAX-T robotic cross-connects for large data centers"). The ROME platforms provide an automated patch panel capability that makes establishing and changing connections easier, more efficient, and more accurate than traditional approaches, the company asserts.
"ROME family is evolving its robust platform of precision mechanical technologies, robotic motion systems, fiber latching connections, and software capabilities," said David Wang, founder and CEO of Wave2Wave. "Customers have been asking for an autonomous network with full SDN/NFV capability and we are enabling this revolution. By taking the power of automation down to the physical layer, we're providing the missing link."
Wave2Wave has been working closely with NTT Advanced Technology and Hakuto Co. in Japan on development and sales of the ROME line in that country. Those partners expressed their support of the latest ROME platform. "We are looking forward to working with Wave2Wave as they continue to listen to the needs of customers and act responsively to the market," said George Kimura, president and CEO of NTT Advanced Technology. "The ROME Mini is a perfect example of how Wave2Wave continues to develop and innovate, by evaluating the changing market demands and building the right form factor for the right applications."
"Japan has a high level of fiber penetration and we must take the network from manual to automated," said Ryusaburo Sugimoto, president (representative director) of Hakuto Co. Ltd. "We are leading the way in network innovation and Wave2Wave's ROME Mini provides the right automated solution for the fiber access and 5G edge networks."
Customers can order the ROME Mini now; shipments should begin on October 1, 2019, says Wave2Wave.
For related articles, visit the Network Design Topic Center.
For additional information on fiber connectivity technology and suppliers, visit the Lightwave Buyer's Guide.