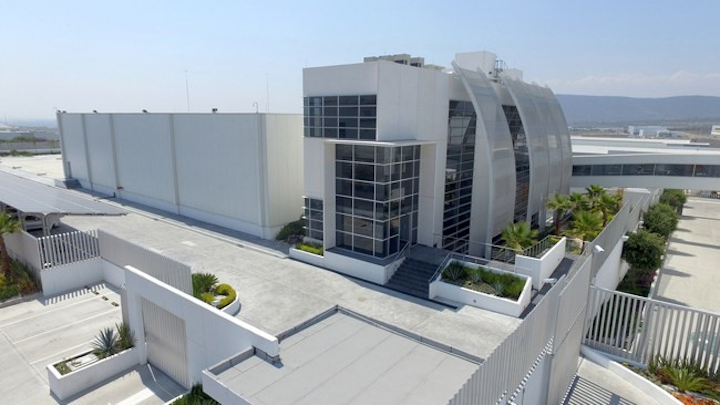 Equinix
Equinix, Inc. (NASDAQ: EQIX) says it has closed the purchase of three data centers that serve customers in the Mexico City and Monterrey metro areas in Mexico. The data center services company paid $175 million in cash to Axtel S.A.B. de C.V. (BMV: AXTELCPO) for the facilities. The data centers offer a combined total of about 115,000 square feet of colocation space as well as enough power capacity to lead Equinix to assert it is now one of the largest network-neutral data center operators in the country.
Two of the newly purchased facilities serve Mexico City and are located in Querétaro. Five network service providers currently operate within each data center, says Equinix. The first facility, renamed the Equinix MX1 IBX data center, has 110,000 gross-square-feet, with 37,000 square feet of colocation space. Equinix asserts the building is the first data center in Latin America with an energy cogeneration system. The facility also has earned International Computer Room Experts Association (ICREA) certification. The second facility, now called Equinix MX2, has is 80,000 gross-square-feet data center with 6,000 square feet of colocation space. However, the facility can be expanded to provide up to 60,000 square feet of colocation space, says the company.
The Monterrey facility, renamed the Equinix MO1, offers 25,000 gross square feet of data center space with 12,500 square feet of colocation space. It is a carrier-neutral facility with 10 network service providers.
Combined, the three facilities generated approximately $21 million in revenue in the 12 months ending December 31, 2018, with an EBITDA margin profile accretive to the Equinix business, the company says. The sales agreement calls for current colocation customers within the three data centers to transition to Equinix. Axtel will be both a customer as well as a strategic marketing partner of Equinix in Mexico.
The deal is part of an initiative that has seen Equinix spend more than $500 million in its Latin American operations including Brazil, Colombia, and now Mexico. "As Latin America is forecasted to be the fastest-growing region for colocation services over the next five years, this acquisition positions Equinix well to businesses seeking to expand and build out their IT infrastructure at key edge metros within the region," commented Dan Thompson, research director, 451 Research. "The three new data centers in Mexico will add to the Equinix presence in Brazil and Colombia, along with its operations in the north-south interconnection points in Miami and Dallas."
"We live in a digital age where everything and everyone are increasingly connected. The growing amount of data, combined with advances in mobile communications, is increasing the need for users to have continuous access to information and content. For Totalplay Empresarial, it is essential to provide the best possible experience for our customers. Equinix is a trusted partner in delivering our services in the United States and Colombia, providing unique interconnection services. Now with its expansion to Mexico, we look forward to extending our operations further on Equinix's global platform," added Héctor Nava Cortinas, CEO, Totalplay Empresarial.
For related articles, visit the Data Center Topic Center.
For more information on high-speed transmission systems and suppliers, visit the Lightwave Buyer's Guide.
To stay abreast of data center communications advances, subscribe to Lightwave's Datacom/Data Center Newsletter.