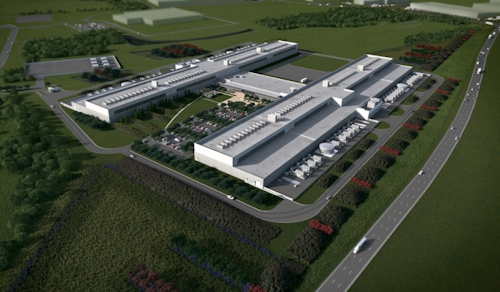 Facebook announced last week that it plans to construct a new data center in Fort Worth, TX. The campus-style facility will join similar data centers in Altoona, IA, Prineville, OR, Forest City, NC, and Lulea, Sweden. The first of the three main buildings on the 110-acre site (see artist's rendering above) is expected to be operational by the end of next year, according to a report by the Rapid City Journal.
The Journal also reports that Fort Worth was selected from among four "finalists" to complete a year-long site selection process.
Facebook promises to power the building completely with renewable energy resources. To achieve this goal, the company says it will enable 200 MW of new wind energy to the Texas grid by working with local energy suppliers Citigroup Energy, Alterra Power Corporation, and Starwood Energy Group. Facebook also plans to cool the facility using outside air.
The ability to access renewable energy resources was among the site-selection criteria, according to a post by Ken Patchett, director of Data Center Operations, West Region, on the site's very own Facebook page. Other decision factors included a shovel-ready site, the ability to work with the local community, and availability of the necessary local talent pool.
Facebook also plans to leverage several hardware projects from its Open Compute Project effort (see "Driving new opportunities in the cloud"). These include:
Yosemite, a system-on-chip (SoC) compute server developed with Intel
Wedge, a top-of-rack network switch
6-pack, an open modular switch platform that uses Wedge as a building block.
For more information on high-speed transmission systems and suppliers, visit the Lightwave Buyer's Guide.