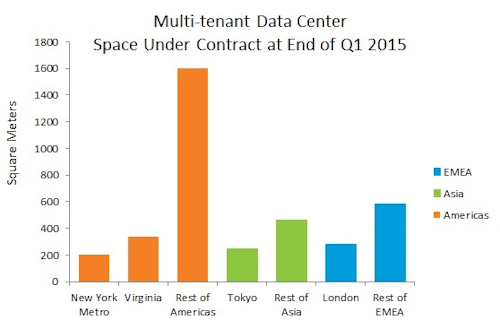 There are now 3.7 million square meters of floor space under contract in multi-tenant data centers (MTDCs), reports Elizabeth Cruz senior analyst, Data Centers, Cloud & IT Infrastructure, at IHS in a recent blog. Much of that space can be found in four locations: London, Tokyo, the New York Metro area, and Virginia, according to the market research firm.

The first quarter of 2015 showed 10% growth in contracted MTDC space over the year-ago quarter, IHS reports. The growth comes as companies around the world continue to look to save money by outsourcing their data center operations, good news for both wholesale and retail colocation businesses.

In fact, IHS expects MTDC revenue will see a CAGR of 8.2% through 2019 in constant dollars. Revenues for 1Q15 showed a jump of nearly 5% in the first quarter versus 1Q14. While IHS notes this rate was slower than the double-digit growth seen the last few quarters, weakening of the euro versus the dollar was largely to blame.

"Businesses are increasingly choosing to outsource the operations to MTDC providers, thereby moving these expenses into the operational column," noted Cruz. "Also, the ability to add data center space on demand is appealing to all companies whose IT needs grow at speeds much faster than new data centers can be built, which usually takes about two years."

Nevertheless, Cruz cautions that over-building MTDC facilities and the commoditization of service offerings pose risks. She sees MTDC operators seeking to differentiate and add value by increasing their focus on managed service offerings and the opportunity for interconnections between tenants.

For more information on high-speed transmission systems and suppliers, visit the Lightwave Buyer's Guide.