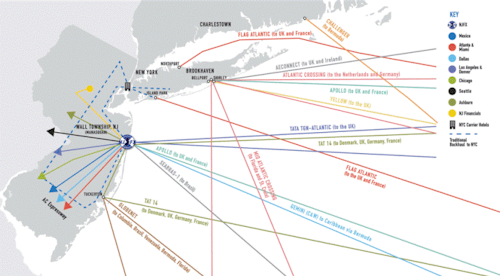 The New Jersey Fiber Exchange (NJFX) is set to announce the Phase II opening of its carrier-neutral colocation facility, in Wall Township, NJ, September 20. A launch event will follow September 21. The NJFX's "Tier 3 by the Subsea" collocation facility intersects where subsea cables from the U.S., South America, Europe, and the Caribbean land nearby (see map above).
Construction of the facility began last September (see "NJFX begins construction of Tier 3, carrier-neutral data center").
Coriant announced that NJFX will use its Groove G30 data center interconnect (DCI) platform to provide connectivity.
"The demands of cloud communications and data storage are having a dramatic impact on how networks are built," says Joe Shilgalis, Coriant's regional vice president for North America, "and NJFX is bringing a new level of speed, agility, and control to the equation."
Meanwhile, Tata Communications announced that it will be among the NJFX's first customers. The NJFX is adjacent to Tata's cable landing station in the area.
"Tata Communications has been indispensable to our 'Tier 3 by the Subsea' project," says NJFX Founder and CEO Gil Santaliz. "We are proud that Tata Communications not only facilitated our strategy to tether the facility to its subsea landing station, but also found value in the data center for its own initiatives by deploying servers in our mission-critical environment."
"Adjacencies of having a data center facility with a subsea cable landing station connecting North America, Europe and South America provides tremendous value for customers," says Tata Chief Operations Officer John Hayduk. "We believe that enterprises and service providers alike will be eager to adopt products and services with NJFX to gain access to the connectivity ecosystem that resides within our landing station."
Other network service providers listed on the NJFX website include Zayo Holdings, Windstream, Sunesys, Sparkle, Lightower Fiber Networks, Lightpath, Cross River Fiber, and 1025Connect LLC.
For related articles, visit the Network Design Topic Center.
For more information on high-speed transmission systems and suppliers, visit the Lightwave Buyer's Guide.