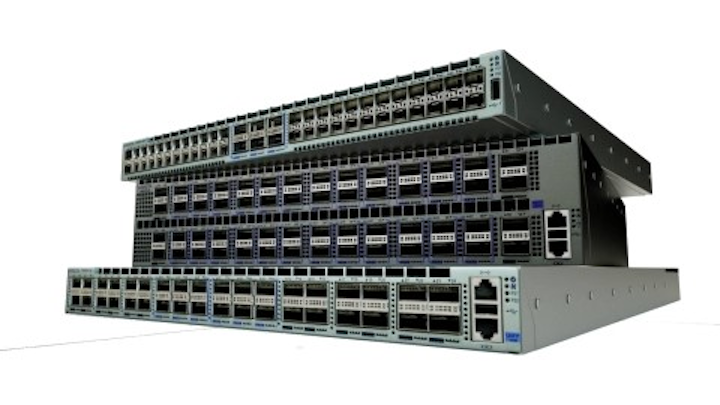 Arista Networks (NYSE:ANET) last week unveiled the Arista 7280R Series fixed switching and routing platform. The new platform series complements the company's 7500R Universal Spine platform to address data center spine-and-leaf network architectures for IP storage, routing and digital media applications.

Arista says the 7280R Series Universal Leaf series offers dynamic and deep buffering and internet-scale route tables under control of the Arista EOS (Extensible Operating System). The series tackles 10/25/40/50/100 Gigabit Ethernet requirements via 1RU and 2RU form factors. They also offer up to 100X the buffer memory of most fixed switches, Arista claims.

The company believes the 7280R Series will find use in several applications. In storage networks, the platforms will offer deterministic latency characteristics; any-to-any, non-blocking host communication; and dynamic deep buffers that can accommodate large, bursty storage patterns. Meanwhile, the Arista EOS will offer the latest versions of such features as latency analyzer or LANZ, and buffer use monitoring and MapReduce Tracer for visibility into Hadoop workloads. The company's CloudVision provisioning system can act as the operations portal for automation of the IP storage infrastructure.

The platforms also with Arista's storage partner ecosystem, which includes EMC, Hewlett Packard Enterprise, NetApp SolidFire, Nutanix, and Pure Storage.

For core/WAN routing, the 7280R platforms can leverage Arista's FlexRoute technology to address IP peering and data center interconnect (DCI) applications. Here, CloudVision has been expanded to support Cloud ZTP (Zero Touch Provisioning) for automated provisioning of routing deployments.

And for media distribution applications, the 7280R series can enhance digital Ethernet-based audio and video networks to handle diverse workloads, workflows, and work streams, Arista says.

The 7280R Series models come in four configurations:

48 ports of 100GbE, with a choice of 10/25/40/50/100GbE speeds
36 ports of 40GbE, with combinations of 10GbE and 40GbE with up to 12 ports of 100GbE
48 ports of 10GbE SFP+ with six 100G uplinks
48 ports of 10GBASE-T with six 100G uplinks.

The 7280R series is shipping now. Arista says prices are comparable to the company's 7280SE Series with expanded support for 100GbE and 25GbE, along with higher density combinations.

For related articles, visit the Data Center Topic Center.

For more information on high-speed transmission systems and suppliers, visit the Lightwave Buyer's Guide.