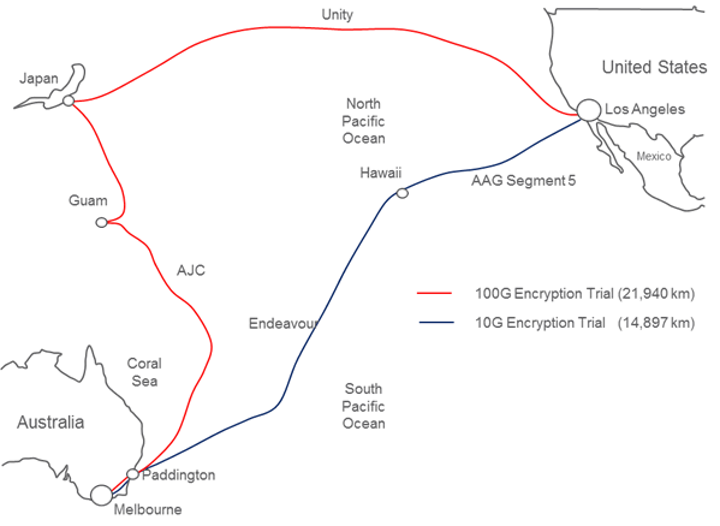 Ericsson (NASDAQ: ERIC) says it has collaborated with optical systems partner Ciena and Australian network operator Telstra to trial continuous data encryption over 21,940 km of submarine cable across a pair of undersea cable networks. The trial used Ciena's low latency wire-speed encryption technology (see "Ciena WaveLogic Encryption offers optical layer encryption up to 200 Gbps") to encrypt data while maintaining speed and reliability in transit between Los Angeles and Melbourne at 100 Gbps.
According to Ericsson, the new encryption technology will appeal to organizations with high security requirements, including finance, healthcare, defense, government sectors, and data center operators.
"This demonstration shows that customer services with large bandwidth requirements can be secured and data transported across virtually any distance and over an underlying network that uses multiple vendors," said Darrin Webb, Telstra's executive director of international operations and services. "This means we can provide service consistency regardless of the cable system used. Customers will also be able to protect their data not only at the application layer, but also at the network layer without any reduction in quality.
Functionality testing is an important step in advancing towards commercialization, providing Telstra with the assurance of service quality prior to deployment, Ericsson says.
"A series of advanced demonstrations such as these are necessary before any product is released commercially," said Emilio Romeo, head of Ericsson Australia and New Zealand. "In partnership with Telstra and Ciena, Ericsson provides end-to-end systems integration expertise to deliver the secure solution, with our teams continuing to hit faster encryption milestones. In January 2015, we had success at 200 Gbps between Melbourne and Sydney, then with 10 Gbps speeds over the greater distance from Melbourne to Los Angeles in January this year. Now we have achieved 100 Gbps. Ericsson will continue to support Telstra's path toward commercialization of this enhanced security capability."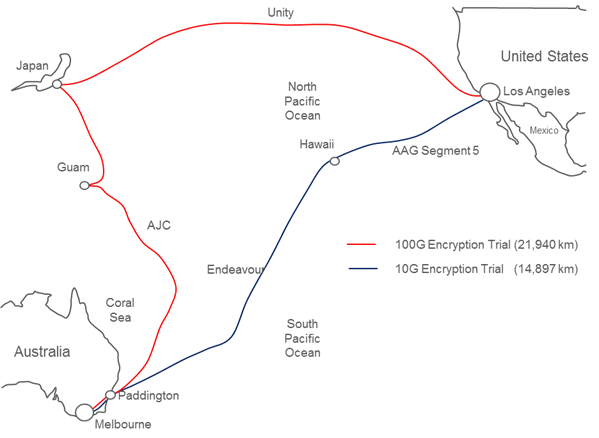 Ericsson, Telstra, and Ciena trial continuous data encryption over 21,940 km of submarine cable across a pair of undersea cable networks.
For related articles, visit the Network Design Topic Center.
For more information on high-speed transmission systems and suppliers, visit the Lightwave Buyer's Guide.