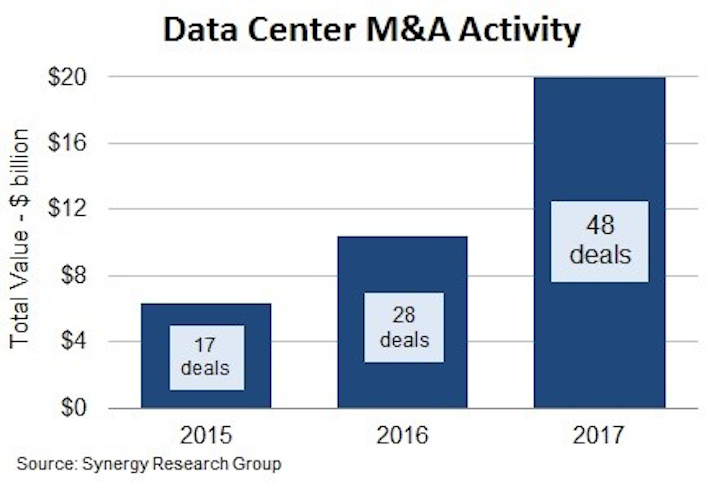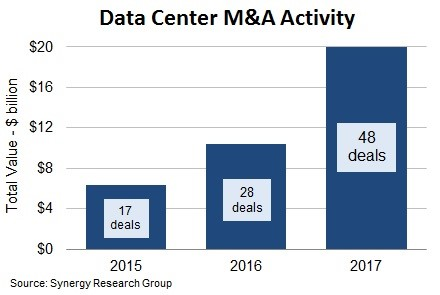 Data center M&A deals in 2017 outnumbered 2015 and 2016 combined: Synergy Research
2017 saw more data center-oriented M&A deals than 2015 and 2016 combined. (Source: Synergy Research Group)
The total value of major data center-oriented M&A deals that closed in 2017 reached $20 billion, surpassing the combined total for 2015 and 2016, according to new data from Synergy Research Group. There was an average of nearly one key M&A deal closed weekly through 2017. According to Synergy, there are four additional deals with a $2.6 billion total value as 2018 begins, which have been agreed but have yet to be closed.
There were 12 deals valued in the $100 million to $1 billion range, and 31 deals valued at as much as $100 million each, says the market research firm. Four deals involved Equinix, Cyxtera, Peak 10, and Digital Bridge acquisitions valued at a billion dollars or more (see "Equinix completes Verizon data center buy" and "Shaw sells ViaWest to Peak 10 for C$2.3 billion"). The largest transaction of 2017, however, was Digital Realty's $7.6 billion acquisition of DuPont Fabros, says Synergy.
2015 and 2016 saw just 45 deals combined, while there were 48 deals closed in 2017 alone. Only three of the deals during 2015 and 2016 were in excess of the billion-dollar range, with the Equinix acquisition of European retail colocation provider TelecityGroup for $3.8 billion being the largest.
While CyrusOne, Peak 10, Digital Bridge, NTT, Carter Validus, Iron Mountain, Cyxtera, and Elegant Jubilee made important acquisitions during 2017, the greatest investors over the period from 2015 to 2017 have been colocation providers Digital Realty and Equinix, reports Synergy. Digital Realty and Equinix spent $19 billion in total on acquisitions of data center operators, not including the pending Equinix acquisition of Metronode, Synergy reports (see "Equinix acquires Metronode equity interests to expand footprint in Australia"). Digital Realty's priority was acquisitions in the United States and Europe, and Equinix focused on acquisitions in all four global regions.
"Above all else, what is driving the data center M&A activity is enterprises focusing more on improving IT capabilities and less on owning data center assets," said John Dinsdale, a chief analyst and research director at Synergy Research Group. "That shift is driving huge growth in outsourcing, whether it is via cloud services, or use of colocation facilities, or sale and leaseback of data centers. The dramatic growth of cloud providers is also driving changes in the data center industry, as data center operators strive to help them rapidly increase scale and global footprint. We expect to see much more data center M&A over the next five years."
Synergy provides quarterly market size and segmentation data on cloud infrastructure services and related markets, including operator revenues by segment and by region.
For related articles, visit the Business Topic Center.
For more information on optical modules and suppliers, visit the Lightwave Buyer's Guide.