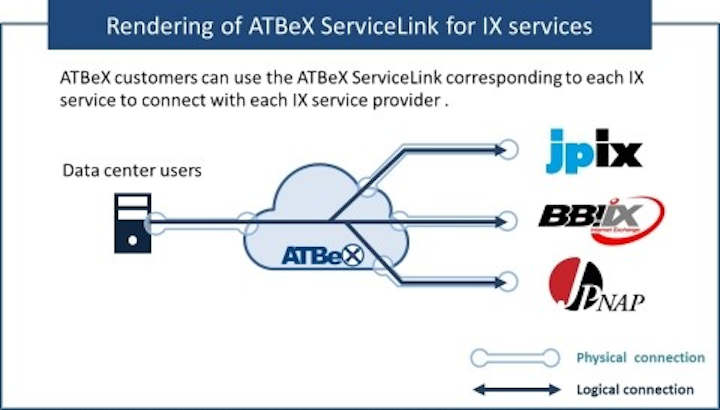 ATBeX ServiceLink for IX services (Graphic: Business Wire)
AT TOKYO Corp. says that it will supply connection services between ATBeX (AT TOKYO Business eXchange) and key Japanese Internet exchange providers (IX) Japan Internet Exchange Co., Ltd. (JPIX), BBIX, Inc. (BBIX), and Internet Multifeed Co. (JPNAP). The data center service provider is also introducing the ATBeX ServiceLink for JPNAP, and says it plans to individuallyroll out the ATBeX ServiceLink for JPIX and BBIX.
ATBeX is a network platform that delivers flexible, diverse mutual connections within the data center to support business customer growth, including mutual linkage between corporate systems, and use of services delivered by any provider in the AT TOKYO data center. By linking ATBeX to IX services that Japan's major IX providers offer, customers will have access to these providers' IX services through a single ATBeX connection, says AT TOKYO.
Customers will also be able to access IX services, cloud and communication services, and other services through the multi-connection functions of ATBeX, enabling them to build an efficient, flexible network.
According to AT TOKYO, its data centers will become a source of new business and create value through interconnections enabled by the service lineup of ATBeX ServiceLink. By logically dividing physical ports, AT TOKYO's ATBeX service supplies required bandwidth, the company attests.
AT TOKYO is a part of the SECOM Group. Established in 2000 and headquartered in Koto-ku, AT TOKYO provides data center services, delivering infrastructure that integrates a reliable power supply and fiber optic networks.
For related articles, visit the Data Center Topic Center.
For more information on high-speed transmission systems and suppliers, visit the Lightwave Buyer's Guide.