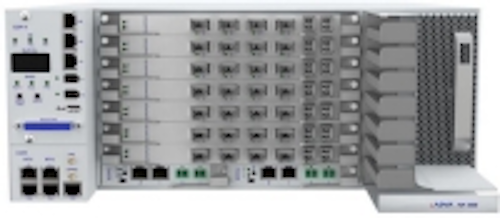 ADVA Optical Networking is the latest optical transport systems vendor to unveil a purpose-built data center interconnect (DCI) platform. Like recent competing offerings, the ADVA FSP 3000 CloudConnect promises to provide Internet content providers (ICPs), and cloud service providers (CSPs), and other interested in high-speed transport between data centers with high capacity, low power consumption, and support for software-defined networking (SDN) architectures. However, a source at ADVA asserted that the CloudConnect's 4RU size is actually preferable to the smaller sizes of some alternatives.

The CloudConnect features a line-card-based architecture built around a new 400-Gbps card. The platform is available in two configurations: the 4RU SH4R and the 12RU SH12, the latter targeted for applications requiring ETSI chassis depth. The SH4R can accommodate seven traffic cards and the SH12 20. This translates to 25.6 Tbps duplex capacity per fiber pair from a single rack in the C-Band; the units also will support L-Band transmission for a potential 51.2 Tbps total.

The cards support both line-side and client-side interfaces on the same blade. The client-side interfaces are 100 Gigabit Ethernet. On the line side, the cards will support 100-, 300-, and 400-Gbps operation via a pair of ports. The different line-side transmission options are supported via three software-programmable modulation format choices, including DP-QPSK, DP-8QAM, and DP-16QAM.

The new platforms also are power efficient – 0.5 W per Gbps, ADVA asserts, thanks in part to a modular design that does not require electrical backplane traffic.

According to Jim Theodoras, ADVA's senior director of technical marketing, the company originally had planned to target a 1RU format for the CloudConnect. However, discussions with potential customers uncovered resistance to that idea, due to concerns about redundant trays, power supplies and connections, and inventory requirements. The target customers said a 4RU size would be much more appealing, he asserted.

They also expressed interest in direct control of the platforms via their SDN implementations, rather than working through an optical systems vendor's network management system, Theodoras says. ADVA offers this access to the CloudConnect via what Theodoras described as "truly open interfaces" that conform to the desires Microsoft seeks in its Open Line System concept. These interfaces include CLI, REST, NETCONF, and RESTCONF.

Theodoras said the CloudConnect is now in the hands of "select customers," including three ICPs/CSPs who helped guide development of the platforms. The systems should be available for general ordering by the end of this year, he predicted.

For more information on high-speed transmission systems and suppliers, visit the Lightwave Buyer's Guide.