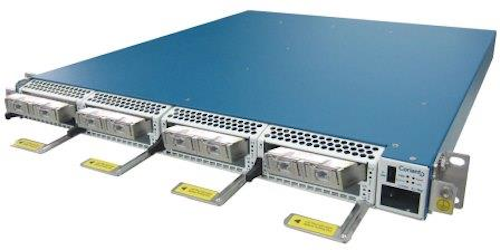 Optical transport systems vendor Coriant has entered the data center interconnect space with the Coriant Groove G30 DCI Platform. The 1RU system offers an aggregate capacity of 3.2 Tbps, split equally between the line side and the client side. It features industry-low power consumption, Coriant sources insist, as well as flexible-rate operation that will support line-side channel rates as high as 200 Gbps.

Coriant has targeted the Groove G30 at data center interconnect applications across the reach spectrum, from long haul to metro. Pluggable optical transceivers enable the system to be configured to support client-side line rates from 10 Gbps to 100 Gbps. The ability to select just the interface speed needed, as well as the fact that not all of the interface ports need to be populated immediately, enables low initial first cost and pay-as-you-grow capabilities, say Bill Kautz, director of product solutions, and Zeljko Bulut, product line manager, DCI solutions, at Coriant.

The Groove G30's power consumption of 0.4 5W per gigabit of duplex traffic is as much as a 70% improvement over competing offerings, Coriant asserts. Bulut says that, in addition to proprietary design aspects, the platform takes advantage of the latest generation of commercial coherent DSP technology to achieve such low power draw. The new DSPs have an integrated Optical Transport Networks (OTN) framing capability, which obviates the need for a separate, power-hungry chip to perform this function, Bulut explains.

Coriant has incorporated its CloudWave Optics capabilities to enable the platform to use a variety of modulation formats to support a variety of line-side data rates, including 100, 150, and 200 Gbps per carrier. The Groove G30 leverages eight CFP2 Analog Coherent Optics (ACO) transceiver ports to meet line-side requirements.

The stackable platform also features support for open North Bound Interfaces (NBIs) and APIs. Coriant designed the system to support implementation over third-party open line systems as well as in conjunction with its own optical transport portfolio.

Kautz and Bulut say the system is targeted at the full range of potential data center interconnect infrastructure operators, from service providers to Web 2.0 companies to enterprises. Customer trials are about to begin; Coriant expects to make the Groove G30 generally available in the second quarter of 2016.

For more information on high-speed transmission systems and suppliers, visit the Lightwave Buyer's Guide.