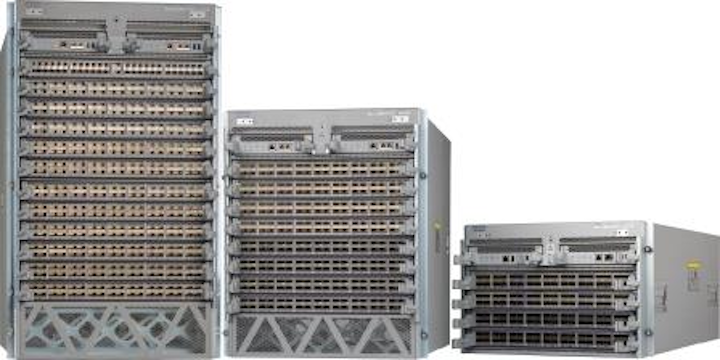 Switch and router platform vendor Arista Networks (NYSE:ANET) has unveiled the 7500R Series of switching and routing platforms for cloud service providers and enterprise data centers. The series features a chassis fabric capacity of up to 115 Tbps as part of Arista's Universal Spine architecture. Netflix appears to have signed on as a launch customer.
Arista says it will supply the platforms with two-tier active Leaf-Spine and single-tier Spine options. Thanks to the platforms' ability to combine switching and routing, the company foresees data network operators replacing the traditional core routing layer with an Arista 7500R series-based spine. The result would be rapid re-convergence and network-wide resilience between data centers and to the Internet, the company asserts.
The series will launch with three platforms. The 7504R and 7508R feature 38 Tbps and 75 Tbps of capacity, respectively, and are rolling out now through Q2. The flagship 7512R, with 115 Tbps of capacity, will become available in Q3 2016, Arista says.
All three versions of the 7500R leverage line cards with 9.6 Tbps of capacity. Additional features of the platform series include:
Up to 432 wire-speed 100GbE ports in a choice of three form factors
288 Gigabytes of deep and smart packet memory as well as support of Virtual Output Queues (VoQ) for lossless forwarding
Agile port speeds of 1/10/25/40/50/100GbE
FlexRoute technology to delivers up to 1 million wire-speed routes with MPLS, segment routing, and Ethernet Virtual Private Network protocol support
Programmable traffic engineering with up to 128,000 MPLS, Generic Routing Encapsulation, Virtual Extensible Local Area Network (VXLAN), and IP-in-IP tunnels.
The line cards are available in three port configurations:
36 x 100GbE QSFP, with a choice of 10/25/40/50/100GbE
36 x 40GbE with combinations of 10GbE and up to six ports of 100GbE
48x10GbE SFP+ and 2x100G QSFP.
Netflix appears to like the approach.
"The Arista 7500R allows Netflix to provide the ultimate user experience while keeping costs in check. Arista's continuous innovation has resulted in novel CDN [content delivery network] architectures, offering breakthrough price/performance at 10X more bandwidth at one-tenth the price of a traditional router," said Dave Temkin, vice president of global networks at Netflix.
Pricing for the platforms starts at $3000 per 100GbE port.
For related articles, visit the Network Design Topic Center.
For more information on high-speed transmission systems and suppliers, visit the Lightwave Buyer's Guide.